SDEROT, Israel (CNN) -- Israeli children toted colorful backpacks to school in this town on the Gaza border Thursday, the first day of a truce that Israel hopes will end the barrage of rockets that have pummeled Sderot in recent months.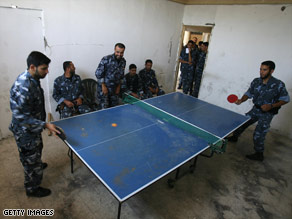 Palestinian policemen loyal to Hamas play table tennis in Rafah, Gaza, on Thursday.
Meanwhile, in Gaza, people gathered around fruit stands, men sat in chairs chatting on the streets, and black-clad Hamas forces patrolled some neighborhoods as the cease-fire took effect at 6 a.m. (11 p.m. Wednesday ET).
But one Gaza resident voiced skepticism that the Egyptian-brokered agreement between Israel and Gaza's Hamas leadership will last.
"We are not optimistic because the Israeli side always violates any calm," he said. "As Palestinians, people and factions, we all support this calm. We just want to live in peace."
Monitoring the situation in Sderot, Israeli Foreign Ministry spokesman Aviv Shiron expressed cautious optimism.
"We hope it will be kept by all parties," he told CNN's Atika Shubert. "Yesterday, that barrage of 30 Qassams ... just before the cease-fire went into force shows that they decided to kill as many Israelis as possible before the cease-fire."

Watch tension on Israel-Gaza border »
There were no casualties as a result of the rocket strikes. Just an hour before the truce went into effect, an Israeli airstrike aimed at militants near the El Brag camp in the middle of Gaza killed one and injured three, Palestinian security and hospital sources said.
The cease-fire comes a year after the Palestinian Islamic party Hamas took control of Gaza from forces loyal to Palestinian Authority President Mahmoud Abbas.
The deal is supposed to last six months. The terms stipulate that Palestinian militants stop attacks on Israel. Israel, in turn, will halt raids inside Gaza -- and gradually ease its economic blockade if the truce holds.
Gaza residents are mostly concerned that supplies begin coming into their territory again, said Khalid Abdul Shasi of the United Nations Development Program.
"Not only humanitarian supplies, but also supplies for businesses," he said. "Raw material, medicine, fuel is very important."
Gaza, he said, "depends 90 percent on imports through Israel. Those supplies are extremely important for life to go back to normal."
Two hours after the truce went into effect, Israel partially lifted its economic blockade and allowed the transport of fuel into the area. If the quiet continues for a week, Israel will ease its restrictions on supplies further.
"We need this cease-fire," a senior Hamas official told CNN. "We want this to work."
Hamas officials told CNN that the truce will hold "if Israel wants the cease-fire to hold."
They also said they are negotiating with Israel "at this very moment" about freeing an Israeli soldier who was taken hostage two years ago.
Israel has stressed that the cease-fire agreement is one step in a larger process that must include the release of Cpl. Gilad Shalit, the Israeli soldier who is being held by militants in Gaza.
If Shalit is returned, Israel will reopen its border crossings.
Israel's point man for the negotiations to release Shalit, Ofer Dekel, heads to Cairo next week, an Israeli official said. Israeli Prime Minister Ehud Olmert is also going to the Egyptian capital Tuesday for an official visit with Egyptian President Hosni Mubarak.
"We are open to releasing Gilad Shalit," said a Hamas official close to the negotiations. "We want to broker a deal, and are open to a deal. But everything has its price."
By agreeing to deal with Hamas through Egyptian mediators, Israel appears to be bending its policy of refusing to deal with Hamas, which does not recognize Israel and refuses to renounce terrorism. Several Israeli newspapers were critical of the cease-fire, saying it amounted to a political victory for Hamas.
Shiron dismissed that assessment.
"We have not dealt with Hamas, we spoke to the Egyptians," the Israeli Foreign Ministry spokesman said. "The idea is to prevent bloodshed, and prevent Israeli citizens and Palestinians alike from getting hurt. And if this can be achieved, then I think this is good for everybody."
E-mail to a friend

CNN's Cal Perry contributed to this report.
All About Gaza • Hamas • Israel • Ehud Olmert