JERUSALEM (CNN) -- An Israeli soldier committed suicide at Tel Aviv's airport during a departure ceremony for French President Nicolas Sarkozy, prompting security guards to whisk Sarkozy and his wife into their plane.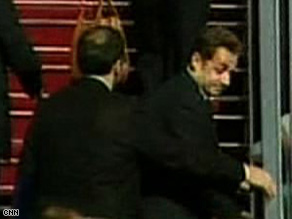 French President Nicolas Sarkozy is rushed aboard a plane in Tel Aviv on Tuesday.
The soldier -- a border policeman -- shot and killed himself several hundred meters away from the ceremony on the tarmac at Ben Gurion Airport. The sound of the gunshot sparked an immediate security alert.
"A shot was heard in the ceremony area," an Israeli government statement said. "ISA (Israeli Security Agency) immediately decided to activate emergency procedures. VIPs were moved into their protected vehicles."
Video showed Sarkozy and his wife, Carla Bruni, shaking hands with officials at the base of the stairs leading up to the plane when Israeli security guards interrupted them. The Sarkozys quickly walked up the stairs into the aircraft while the guards surrounded Prime Minister Ehud Olmert and moved him and other Israeli officials into a waiting car.

Watch Sarkozy and wife be whisked into plane »
After it was clear that there was no danger, Olmert and Israeli President Shimon Peres went up the plane's stairs to explain to Sarkozy and his wife what had happened.
Sarkozy was wrapping up a three-day visit to Israel.
E-mail to a friend