(CNN) -- Iran's powerful speaker of parliament warned other countries Wednesday not to provoke Iran and cautioned against moves that would "cost them heavily."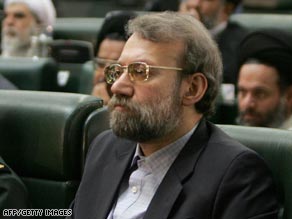 Ali Larijani said that any countries trying to provoke Iran could pay heavily.
Ali Larijani also recommended that Western nations consider the recent comments from U.N. nuclear watchdog chief Mohamed ElBaradei, who said Saturday that a strike on Iran would turn the Middle East into a "ball of fire."
"We advise you to take Mr. ElBaradei's warnings seriously and not to be after provoking Iran. In that case, you will face our predestined action, and returning to interaction will become impossible for you," Larijani said in parliament in Tehran.
The comments come amid concern in the West that Iran is intent on developing nuclear weapons. Iran insists that it wants to pursue nuclear power for energy purposes.
Israel also has warned about Iran's nuclear aspirations and in recent days conducted a large-scale military exercise in the Mediterranean. One U.S. military official said the exercise was in part a message to Iran that Israel has the capability to attack its nuclear program.
ElBaradei indicated that any strike would make Iran less willing to work with the West over its nuclear enrichment program.
At present, Larijani said Wednesday, "a little time was left for having interaction with Iran" regarding the program, according to Iran's Islamic Republic News Agency.
But Larijani, once Iran's chief nuclear envoy, slammed the European Union for its new sanctions against Iran, strictures issued even as the EU plans talks with Iran over an incentives package it hopes would convince Iran that it should halt uranium enrichment.
The EU sanctions adopted Monday include an asset freeze on Iran's Bank Melli and visa bans on some senior officials.
"If you are going to negotiate with Iran over the package of proposals, then why have you chosen confrontation before that?" Larijani asked.
He also issued a warning to the five permanent members of the U.N. Security Council and Germany, which have been engaged in the Iranian nuclear issue.
"If we feel that you are making decisions unilaterally and are using negotiations as an instrument to justify your illegal actions, be certain that the process will change," he said. "This is the path you have chosen to step in, and the responsibility of consequences will be yours."
IRNA quoted him as warning other countries against moves that would "cost them heavily."
"Do not add to the cost you should pay with making wrong assessments," Larijani was quoted as saying.
Iranian and Western analysts believe that an Israeli strike against Iran is not possible without American approval and logistical assistance. Iranians have said they would hold the United States responsible for any attacks by Israel.
Also Wednesday, an Iranian military official issued a warning against any provocative actions. The United States has said it wants to deal with the Iranian nuclear issue diplomatically but has left all options on the table.
Maj. Gen. Seyed Mohammad Hejazi, deputy commander of Iran's Islamic Revolutionary Guard Corps, "suggested" that American leaders "be careful lest they face a new catastrophe."
"Our last word is that if you want to head toward Iran, be sure to bring with you a walking stick and a pair of artificial legs, because if you do come to Iran, you will no longer have legs to go back home with," Hejazi said.
The Israeli military, responding to questions about this week's military exercise, said its air force regularly trains for various missions so it will be able to confront and meet the challenges posed by the threats facing Israel.
In 1981, Israel attacked and destroyed the Osirak nuclear facility in Iraq, and in September it attacked a target in Syria that the United States believes was a nuclear reactor.
Israel and Iran long have been arch-enemies. Israel has long felt threatened by Iran's hard-line Islamic regime, and the Islamic Republic rails against the very existence of the Jewish state. The Iranian regime for years has criticized Israel's policies in the Palestinian territories.
E-mail to a friend

Journalist Shirzad Bozorgmehr contributed to this report