JERUSALEM (CNN) -- Israeli lawmakers have reached a last-minute deal that will allow embattled Prime Minister Ehud Olmert to stay in power for a few more months. In exchange, Olmert's party agreed to hold primary elections by September 25.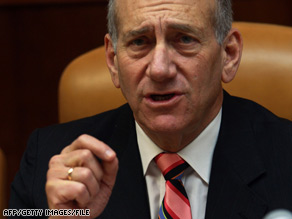 Prime Minister Ehud Olmert has said he would only resign if he is indicted on corruption charges.
Lawmakers had scheduled a vote for Wednesday to dissolve the Knesset. They canceled the vote after Olmert's Kadima Party and Defense Minister Ehud Barak's Labor Party reached a deal overnight.
As part of the deal, Kadima will hold primary elections to elect a new leader by September 25.
Olmert has been embroiled in a corruption probe, and Barak had earlier said he would pursue new elections if Olmert didn't step down. He said Olmert can't run the government properly with the corruption probe persisting.
Olmert has said he would only resign if he is indicted on corruption charges.
The current probe is the fifth one Olmert has faced since he became prime minister two years ago and the latest in a series of investigations to focus on him during three decades in politics. Olmert has never been convicted of wrongdoing.
Don't Miss
He is under investigation for the purchase of a house in an upscale Jerusalem neighborhood that he bought while he was Jerusalem's mayor, allegedly getting it below market value in return for favors.
Israeli officials also are investigating an alleged $10 million business deal involving his former business partner. Olmert is alleged to have taken part in the deal while he was labor minister.
He is also under investigation for appointing his political cronies to positions at Israel's Small Business Authority from 2003 to 2006, while he was labor minister.
A year-long investigation into Olmert's role in the privatization of Israel's second-largest bank wrapped up in November with no charges filed against the prime minister.
E-mail to a friend

CNN's Shira Medding contributed to this report.
All About Israel • Ehud Olmert