WASHINGTON (CNN) -- An increase in attacks by Taliban fighters operating from Pakistan is a "real concern" in the nearly 7-year-old war in Afghanistan, Defense Secretary Robert Gates said Thursday.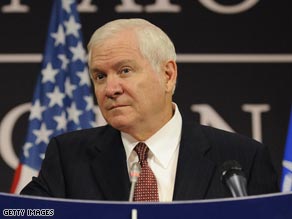 Defense Secretary Robert Gates says Pakistan recognizes that the attackers are a problem.
Gates said he hopes a new Pakistani effort to clamp down on Islamic militants in its northwestern tribal districts will improve the situation in Afghanistan, where the allied death toll hit a monthly peak Thursday.
"What has happened is that as various agreements have been negotiated or were in the process of negotiation with various groups by the Pakistani government ... the pressure was taken off of these people and these groups, and they've therefore been more free to be able to cross the border and create problems for us," he said at the Pentagon.
The top U.S. commander in southeastern Afghanistan, Maj. Gen. Jeffrey Schloesser, said Tuesday that attacks on his troops were up 40 percent in the first five months of 2008. A roadside bomb killed three troops and an Afghan interpreter south of Kabul on Thursday, bringing the number of U.S. and allied troops killed in Afghanistan in June to 39, the highest monthly toll of the war.
But Gates said Pakistan's new government "has recognized that this is a problem and that these groups' activities are a problem for the Pakistani government as well as for those of us in Afghanistan."
Islamabad moved about 3,000 forces into a tribal region where Taliban militants recently killed 20 men in a dispute with a rival tribe that had formed a committee to work toward peace in the lawless Northwest Frontier region.
U.S. and NATO troops have spent nearly seven years battling the Taliban in Afghanistan, the original front in the "war on terrorism" launched after the movement's al Qaeda allies attacked New York and Washington in 2001.
The Pentagon dispatched an additional 3,500 U.S. Marines to Afghanistan this year in order to secure the mountainous Pakistani border. But the chairman of the Joint Chiefs of Staff, Adm. Mike Mullen, told Congress in April that the armed services will be unable to spare more troops because of the 5-year-old war in Iraq.
Gates said he expects the United States to beef up its force in Afghanistan in 2009 and praised the French, German and Polish decisions to bolster their contingents in the meantime.
In addition to Thursday's deadly roadside bombing, insurgents used rocket-propelled grenades and small-arms and indirect fire to attack a coalition-Afghan patrol near Kandahar, the Taliban's historic stronghold. The troops returned fire and called in airstrikes, killing "several" fighters, the U.S.-led coalition reported, with no allied or Afghan casualties.
In southeastern Paktika province, four militants were reported captured, and several others were reported killed in fighting this week in Zabul province in the south.
E-mail to a friend

All About Robert Gates • Afghanistan