From Mohammed Tawfeeq
CNN
BAGHDAD, Iraq (CNN) -- Gunmen have killed a senior city appeals judge in Baghdad, an Iraqi Interior Ministry official said.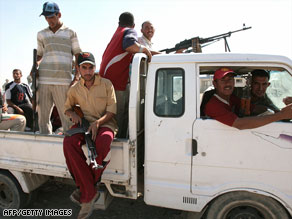 Former Iraq insurgents, pictured in 2007, in Anbar province have allied to oppose al Qaeda in Iraq.
The drive-by shooting occurred Thursday in the eastern part of the capital. No one has claimed responsibility. Investigators are looking into a motive for the attack.
The judge, Kamal al-Showaili, was driving home from work in the Jamila neighborhood. At least two of his bodyguards also were wounded.
Al-Showaili headed the appeals court in Rasafa in eastern Baghdad. The other city appeals court is in Karkh in western Baghdad.
The assassinations of professionals have been common in the Iraq war, with lawyers, judges and professors the victims of violence.
Meanwhile, forecasts of high winds and dust storms forced the U.S. military Friday to delay its formal security handover in Iraq's Anbar province, the military said.
The U.S. military had planned a ceremony Saturday in Ramadi to transfer security responsibilities to the Iraqi military in the predominantly Sunni Arab province. A new date for the event is pending.
Don't Miss
Anbar would be the 10th of 18 provinces and the first Sunni Arab province to get security control from U.S.-led coalition forces in the post-Saddam Hussein era.
However, Anbar remains dangerous.
Officials said 25 people were killed and another 20 were wounded Thursday when a suicide bomber attacked a meeting of tribal sheikhs in the Anbar town of Karma.
Among those killed were three U.S. Marines, two interpreters, several sheikhs, three police and the town's administrative director.
The U.S. military said the strike "bears the hallmarks" of an al Qaeda in Iraq operation.
E-mail to a friend

All About Anbar Province • Iraq