JERUSALEM (CNN) -- Israel agreed to release a notorious killer Sunday in order to bring closure to the families of three missing military men, a government spokesman said.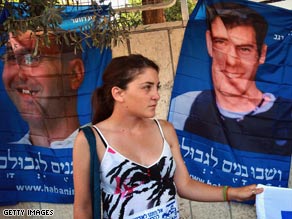 An Israeli woman stands in front of posters of captured soldiers Sunday in Jerusalem.
"It's not an easy decision," Mark Regev told CNN. "One of the people being released is a brutal murderer, a man that with his own hands killed infants -- a terrible crime, but this is a nasty business."
He was referring to Samir Kuntar, the longest-serving Lebanese prisoner in Israel, who is hailed as a hero by Hezbollah.
Kuntar was convicted for a 1979 attack in which he shot and killed an Israeli man in front of his 4-year-old daughter before smashing her head against a rock and tossing her into the sea.
The victim's 2-year-old daughter was accidentally smothered by her mother, who tried to keep her quiet as they hid from the attackers.
Kuntar was convicted for murdering both children in the attack, which the Palestine Liberation Front orchestrated to protest the signing of the Egyptian-Israeli peace treaty at Camp David the previous year.
Kuntar is one of five Lebanese prisoners who Israel will release in exchange for two Israeli soldiers, Ehud "Udi" Goldwasser and Eldad Regev.
Don't Miss
The Lebanon-based Shiite militant group kindapped the two in a July 2006 raid into northern Israel that left three other Israeli soldiers dead.
Hezbollah never gave Israel any indication whether they survived the attack, which sparked a 34-day war, leaving the families in limbo.
Before the vote, Israeli Prime Minister Ehud Olmert told his Cabinet that the two soldiers are not alive, "as far as we know."
"We'll have a final answer when they are returned," Regev said.
Goldwasser and Regev are at the center of the landmark agreement, which has been years in the making, with both sides using the prisoners and intelligence as bartering chips.
Under the deal, which the Cabinet approved 22-3 on Sunday, Hezbollah will also release information about Ron Arad, an Israeli navigator who has been missing since he was forced to eject from his plane over Lebanon in October 1986.
"We have an obligation, a moral obligation to their families to bring finality," Regev said. "That if they are in fact no longer living, that their families can have a funeral, that they can have a grave, that they can know that this is over."
Israel has repeatedly attempted to get information about Arad and other missing airmen by using Lebanese detainees as leverage.
Former Prime Minister Ariel Sharon promised the Arad family that Kuntar will not be released unless Hezbollah provides information on Arad.
In addition to Kuntar and other Lebanese prisoners, Israel will also release Palestinian prisoners and return the remains of dozens of border infiltrators and eight Hezbollah members to Lebanon, according to a statement from the government.
Israel will also provide information to the United Nations about four Iranian diplomats who disappeared in Beirut during the 1982 Israeli invasion, the statement said.
Earlier this month, Israel deported a Lebanese-born man who served six years in jail on charges of spying for Hezbollah.
In exchange, Hezbollah handed over a brown coffin containing the remains of Israeli soldiers killed during the 2006 war. The move was seen as a prelude to a possible prisoner swap between Israel and Hezbollah.
E-mail to a friend

CNN's Shira Medding and and Ben Wedeman contributed to this report.
All About Hezbollah • Israel • Ron Arad • Ehud Goldwasser • Eldad Regev