BAGHDAD, Iraq (CNN) -- Security contractors working in Iraq will no longer receive immunity from prosecution in that nation under a deal being brokered by Iraqi and U.S. officials, Iraqi Foreign Minister Hoshyar Zebari said.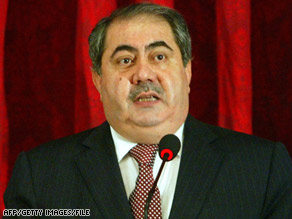 Iraqi Foreign Minister Hoshyar Zebari says he told Iraqi parliament members about the immunity deal Tuesday.
Zebari said he briefed Iraqi parliament members about the immunity agreement Tuesday during a closed-door meeting. Officials at the U.S. State Department, which is leading the U.S. side of the negotiations, could not be immediately reached for comment.
The immunity issue was one of the sticking points in talks over a long-term security pact that deals with, among other things, the future of the U.S. military presence in Iraq. Negotiations on the pact continue.
The reported immunity agreement comes more than nine months after an incident in which Iraqi officials allege guards with the Blackwater security firm shot and killed 17 people, including women and children, and wounded 27 at Baghdad's Nusoor Square.
Survivors and victims' family members allege Blackwater guards started shooting without provocation, but Blackwater said armed insurgents attacked its guards.
Blackwater is one of the contractors providing security services for the State Department in Iraq. Under a provision instituted in the early days of the U.S.-led occupation of Iraq, security contractors have had immunity from Iraqi law.
The shootings prompted a bitter protest from Iraqi officials and placed the operations of Blackwater and other security firms in Iraq under scrutiny.
Don't Miss
A U.S. federal grand jury investigating the Blackwater shootings heard testimony from three Iraqi men in March.
Mahmoud Othman, a member of the Iraqi parliament, said that he attended Tuesday's closed parliamentary session and that the Iraqi representatives were very pleased with the immunity agreement.
"Zebari explained everything to the members of parliament and told us that the negotiations are still ongoing and we didn't reach the final version yet. Still, Zebari believes that there are some good developments," Othman said.
Asked if the immunity agreement grew from displeasure over the U.S. handling of the Blackwater incident in September, Zebari declined to answer.
He said he may have more information during a news conference he scheduled for Wednesday.
Other developments
• Eight people, including an Iraqi police officer, were killed and 55 were injured in a string of insurgent bombings across Iraq on Tuesday. An Iraqi Interior Ministry official said some of the attacks -- which included vehicle bombs, roadside bombs and a suicide bombing -- targeted Sunnis who had turned against al Qaeda in Iraq. One truck bomb exploded near the house of a Sunni sheikh 185 miles north of Baghdad, killing a bystander and wounding 25 people, including the sheikh, Abdul-Razaq al-Waqaa, and his wife. Al-Waqaa is the head of the al-Jabour tribe, which has turned against al Qaeda in Iraq.
• Iraq's largest Sunni Arab bloc is preparing to rejoin the Cabinet after a yearlong boycott. Prime Minister Nuri al-Maliki's office said he accepted proposals from the Iraqi Accord Front for five candidates to fill the positions that bloc members vacated last summer. The names are expected to be submitted to parliament for approval. The inclusion of Sunnis into Iraq's political lifeblood has been cited by the United States and Iraqis as a major factor in improving an atmosphere for national unity. Sunni Arabs had a great deal of power during Saddam Hussein's regime but became marginalized after he was toppled in 2003 and a Shiite and Kurdish power structure emerged.
E-mail to a friend

CNN's Saad Abedine and Mohammed Tawfeeq contributed to this report.
All About Iraq War • Al Qaeda in Iraq • Iraq