(CNN) -- Iran's foreign minister has said his government might consider the American idea of opening a U.S. diplomatic outpost in Tehran -- comments coming amid possible progress in negotiations over Iran's nuclear program.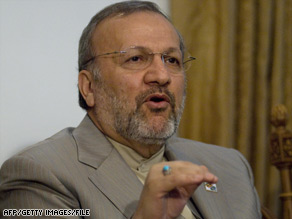 Iran's foreign minister, Manouchehr Mottaki, said more contact between the U.S. and Iran would be "useful."
"Contacts between Iranians and the American people will be a useful step for better understanding of the two nations," Foreign Minister Manouchehr Mottaki said, according to the Islamic Republic News Agency.
Mottaki spoke to reporters Tuesday in New York, where he was attending a U.N. meeting.
U.S. Secretary of State Condoleezza Rice has approved studying the idea of putting U.S. diplomats in an "interests section" that would be hosted by a third party's embassy in Iran's capital. However, State Department officials note that the idea is very preliminary and not anywhere near fruition.
Interests sections are a way to let a country post diplomats in a nation with which it has no formal diplomatic relations.
If the U.S. did open such an outpost, it would be the country's first diplomatic presence in Iran since the two nations severed relations in 1979 after the takeover of the U.S. Embassy in Tehran by students loyal to the Ayatollah Ruhollah Musavi Khomeini.
At present, Swiss diplomats represent U.S. interests in Tehran. In Washington, Iranian officials staff an interests section in the Pakistani Embassy.
Don't Miss
IRNA said Iran has proposed resuming flights between Tehran and New York "for facilitating visits to Iran of the Iranian nationals living in the United States."
Rice said recently that the United States has for some time been attempting to reach out to the Iranian people.
"We want more Iranians visiting the United States," she said. "We want the efforts that we've engaged in to have Iranian artists in the United States, American sports people in Iran. We're determined to find ways to reach out to the Iranian people."
Mottaki, in New York to attend a meeting of the Economic and Social Council of the United Nations, said Iran supports academic and sports exchanges between the two countries, IRNA reported.
"Iranian academics and students have invited their American counterparts to the country to share their research and scientific achievements," Mottaki said, according to IRNA.
The interests-section idea has emerged amid efforts to resolve the differences between the West and Iran over Iran's nuclear aspirations. The West wants Iran to stop enriching uranium because it believes the country wants to produce nuclear weapons. Iran says it wants to use nuclear power solely for energy.
Time magazine's Web site reported that Mottaki has indicated Iranians are amenable to a proposed package of political, economic and security incentives from European diplomats in exchange for Iran halting uranium enrichment.
The proposal also calls for a "pre-negotiations phase in which Iran would simply agree to refrain from expanding its current uranium-enrichment operations, in exchange for the West holding off on further sanctions against Tehran," Time reported.
Time reported that unlike previous proposals "that failed to break the deadlock, Iran would not be required, at least during the preliminary talks, to halt enrichment altogether, as the Bush administration has demanded until now."
The report said Mottaki "reinforced the impression that progress could be imminent" between Iran and negotiators from the United States, Britain, France, Russia, China and Germany -- the "P5 plus 1," a reference to the U.N. Security Council permanent members and Germany.
Time reported that Mottaki "suggested that compromise might be reached on the nuclear issue" and that he said the latest European proposals were "constructive."
"We saw the potential for a new balance," the Time report quoted Mottaki as saying.
Mottaki said Tehran would react to the package in a couple of weeks. U.S. State Department spokesman Sean McCormack noted that the "P5 plus 1" haven't received a response on the offer.
McCormack noted that though Mottaki's public comments "gave some indication of potentially a positive response, we have yet to see evidence of that through diplomatic channels."
"They say they are going to react positive, we will see," he said. "They haven't done so in the past. We obviously leave open the possibility that they will react positively and seriously."
He said public statements from various officials have indicated that there have been "some tensions within the regime" on the course Iranian President Mahmoud Ahmadinejad set on the nuclear program.
Ali Akbar Velayati, the foreign policy adviser of Iranian Supreme Leader Ayatollah Khameni, told a newspaper that it would be in Iran's interest to accept the package because the Bush administration wants Iran to reject it.
"Europeans say it is possible to get results through talks. The Americans are looking for an excuse to force their point of view and then say, 'We told you there is no point in talking with Iran,'" Velayati said.
"Currently the Americans and those who act against our interests want us to reject the proposals. This makes it clear that acceptance is to our advantage," he added.
E-mail to a friend

CNN's Elise Labott and journalist Shirzad Bozorgmehr contributed to this report.
All About Iran • Nuclear Weapons • Manouchehr Mottaki • Diplomacy