BAGHDAD, Iraq (CNN) -- An agreement on relations between the United States and Iraq is within reach and Americans have been flexible in negotiations, Iraqi Foreign Minister Hoshyar Zebari said Wednesday.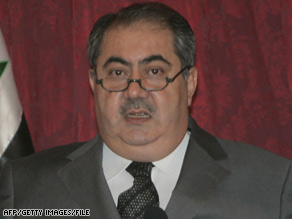 Iraqi Foreign Minister Hoshyar Zebari says American negotiators have shown "a great deal of flexibility."
Iraq and the United States have been negotiating agreements that will detail their relationship in all areas, including rules governing the conduct of American troops in Iraq, where civilians and political officials are concerned about sovereignty.
The rules on forces would replace a U.N. mandate that allows U.S. troops to operate in Iraq through 2008.
Zebari is hopeful that the agreement will be reached by the time the mandate expires at year's end. If a deal isn't reached by then, he said, an interim arrangement or an extension of the U.N. mandate could be possible.
The United States has said it wanted to complete the negotiations by the end of July.
On Tuesday, Zebari said progress was made in one aspect of the deal: Private security contractors working in Iraq would no longer receive immunity from prosecution in that country. Such contractors have had immunity from Iraqi law since the early days of the U.S.-led occupation of the country.
Other military issues under discussion include the status of detainees and the control of airspace. The talks also touch on bilateral relations in the fields of the economy, culture, science, agriculture, education and health.
Suspicion and protests in Iraq have surrounded the negotiations, which many Iraqis fear would compromise the country's sovereignty. But Zebari is optimistic that an agreement will be forged and that "there is no hidden agenda here."
Zebari said American negotiators have shown "a great deal of flexibility" on the issues of immunity for military personnel and civilians who work for the military, detaining Iraqi citizens and authorizing U.S. military operations.
"That's why we haven't given up hope," he said, noting that an agreement is "reachable with further formulations and mutual understandings."
Zebari, who discussed the negotiations during a recent visit to the United States, said: "We are at a critical phase of this negotiation.
"One message that I brought back to my government from Washington was also very clear -- that 'no matter what the Iraqi government will decide ... we as the United States cannot stay in the country without a legal framework or a legal foundation.'"
Other developments
• Iraqi security forces fighting militants in southeastern Iraq arrested several bodyguards assigned to a provincial governor -- but not the governor himself, Iraqi officials said. A source told CNN on Wednesday that Maysan provincial governor Adel Mohawder al-Maliki had been seized by security forces Tuesday. It was later determined that the governor wasn't arrested.
Three members of the provincial council were arrested in the Maysan provincial capital of Amara. All of the officials are affiliated with the political movement of anti-American Shiite cleric Muqtada al-Sadr.
E-mail to a friend

All About Iraq War • Iraq • Hoshyar Zebari