BEIRUT, Lebanon (CNN) -- Hezbollah has agreed to a swap with Israel involving prisoners both alive and dead, leader Hassan Nasrallah says.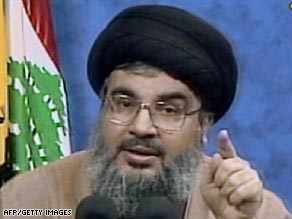 Hezbollah leader Hassan Nasrallah says the group has accepted a prisoner swap deal with Israel.
Speaking on Hezbollah-run television Wednesday, Nasrallah said the exchange of prisoners for two Israeli soldiers --kidnapped two years ago and believed to be dead -- would most likely "be carried out in a couple of weeks."
The Lebanese militant group would also release a report to a U.N. mediator "in few days" about Ron Arad, an Israeli airman who has been missing since he was forced to eject from his plane over Lebanon in October 1986.
Nasrallah's announcement is the first official confirmation from Hezbollah that it agreed to the deal.
Israel's government on Sunday approved the deal in which the Jewish state will release Palestinian prisoners and return the remains of dozens of border infiltrators and "terrorists" -- including eight Hezbollah members -- to Lebanon, according to Israeli Prime Minister Ehud Olmert's office.
Nasrallah said it took more than a year to agree on the principles of the swap, with a tentative agreement reached a few weeks ago.
A key sticking point, Nasrallah said, was the release of convicted murderer Sami Kuntar, who is hailed as a hero by Hezbollah.
"The negotiations were difficult and complicated," the Hezbollah leader said. "In the beginning, they agreed on releasing all the Lebanese prisoners except for Kuntar."
Kuntar was convicted over a 1979 attack in which he shot and killed an Israeli man in front of his four-year-old daughter, then smashed her head against a rock with his rifle butt, tossing her body into the sea. The victim's two-year-old daughter was accidentally smothered by her mother, who tried to keep her quiet as they hid from the attackers.
Kuntar was convicted of murdering both children in the attack, which was orchestrated by the Palestine Liberation Front to protest the signing of the Egyptian-Israeli peace treaty at Camp David the previous year.
He is the longest-serving Lebanese prisoner in Israel.
Six years after his imprisonment, the PLF orchestrated the 1985 hijacking of the Achille Lauro, an Italian cruise ship, in order to secure Kuntar's release. A wheelchair-bound American Jew, Leon Klinghoffer, 69, was killed in the hijacking, his body dumped overboard.
In addition to the prisoner release, Nasrallah said Israel would hand over the bodies of 199 "martyrs."
Once the deal is complete, Nasrallah said Lebanon would be the only Arab state that had "regained all its prisoners and martyrs from Israel."
For its part, Hezbollah will release two Israeli soldiers, Ehud "Udi" Goldwasser and Eldad Regev, who are believed to be dead. Their 2006 abduction sparked a 34-day war between Israel and Hezbollah militants in Lebanon.
"The time frame for the release will be determined in the next week or two," Nasrallah said.
Hezbollah would also hand over the bodies of more than 10 Israeli soldiers killed in the 2006 war.
Nasrallah said the negotiations, which were mediated by the U.N., were so secretive that Hezbollah did not tell Israel whether the two soldiers were alive or dead.
Olmert told his Cabinet before the ministers' voted on the Hezbollah deal that Goldwasser and Regev were not alive "as far as we know."
Nasrallah said the militant group "refused" Israeli attempts to link the issue of the two Israeli soldiers held in Lebanon and the Israeli prisoner in Gaza.
He was referring to Israeli soldier Gilad Shalit who was kidnapped -- also in 2006 -- by militants in Gaza. Shalit is believed to be alive.
E-mail to a friend

CNN's Roba Alhenawi and Saad Abedine contributed to this report.