LONDON, England (CNN) -- Iran agreed Friday to enter into talks with the European Union about its nuclear program before the end of the month, Iranian state-run media said.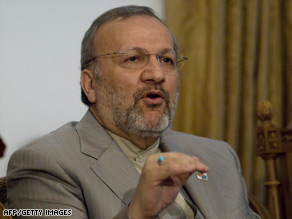 Iranian Foreign Minister Manouchehr Mottaki says Iran will maintain a "constructive approach" to diplomacy.
The EU, which recently placed sanctions on Iran, has offered a package of political, economic and security incentives to Iran if it halts uranium enrichment.
Iran's top nuclear negotiator, Saeed Jalili, called EU foreign policy chief Javier Solana to tell him the response to that offer was coming, according to Iran's Islamic Republic News Agency, and Solana's office characterized Jalili's tone as friendly and positive.
The EU has proposed suspending further sanctions if Iran takes a six-week break from installing or manufacturing any more centrifuges that enrich uranium.
Iran would be allowed to continue to run the more than 3,000 centrifuges it already has but could not manufacture more.

Watch what a deal could mean »
Jalili said Iran is delivering the response to Solana; to the five members of the U.N. Security Council, the United States, Britain, China, France, and Russia; and to Germany, which has helped lead nuclear negotiations.
Iran's Mehr News Agency quoted an unnamed Iranian official as saying that Iran's response was signed by Iranian Foreign Minister Manouchehr Mottaki.
The source said Jalili and Solana will hold talks sometime before July 22.
The potential deal comes as a senior Iranian military commander was quoted as saying any attack on Iran's nuclear facilities would begin a war, according to the Islamic Republic News Agency.
Western nations and Israel share concerns that Iran is intent on developing nuclear weapons. Iran insists that it wants to pursue nuclear power for energy production only.
Iran's Foreign Minister Mottaki said Thursday that the country will consider at least temporarily halting part of its uranium enrichment program as part of an effort to persuade the world to "look to Iran through a different lens."
Iran "is committed to its constructive approach and the resolution of regional and international affairs and problems," Mottaki said in an interview with CNN's Fareed Zakaria to be aired Sunday.
"We believe that the nature of our exchanges, both in format and in substance, were different than of previous times," he said of talks with the EU.
"So I believe that we are now in a new environment with a new approaching perspective, so allow us time to begin this process to make the necessary planning for it," he said.
Mottaki also suggested Iran would never launch an unprovoked attack on Israel -- in contrast to some interpretations of past comments by Iranian President Mahmoud Ahmadinejad.
"We will defend our own country in the case of any attack or invasion or any threat. And the history of the past several thousand years of our land, Iran, demonstrates that our country has never initiated an invasion or an attack that was carried out by the Iranian people against another people in the region," said Mottaki, in New York to attend a United Nations meeting.
Meanwhile, Gen. Mohammed Ali-Jaafari, commander of Iran's Islamic Revolutionary Guard Corps, said Thursday that Iran would respond to any attack, according to a report Friday from the Islamic Republic News Agency.
"Any act on Iran will be considered [a] start of war," Ali-Jaafari said.
Israel, long concerned that Iran wants to attack it, reportedly is weighing a unilateral strike against the Islamic Republic.
Israel conducted a military exercise in the eastern Mediterranean in early June involving dozens of warplanes and aerial tankers.
The distance involved in the exercise was roughly the same as would be required for a possible strike on the Iranian nuclear fuel plant at Natanz, a U.S. military official said.
Israel destroyed a nuclear facility in Iraq in 1981 and a suspected nuclear site in Syria last year.
Iran does not recognize Israel and Ahmadinejad has repeatedly predicted the end of its government -- once calling Israeli leadership "a stinking corpse."
The United States has had no diplomatic presence in Iran since the 1979 takeover of the U.S. Embassy in Tehran and, in 2002, President Bush branded the nation part of an "axis of evil."
But in an apparent reference to the U.S. presidential election, Mottaki said that new leadership could mean a chance for Iran to improve relations.
"We hear new voices in America; we see new approaches," he said. "And we think that the rational thinkers in America can, based on these new approaches, see the reality as it is."
E-mail to a friend

CNN's Christiane Amanpour and journalist Shirzad Bozorgmehr contributed to this report.
All About Iran • Israel • Nuclear Energy • European Union