(CNN) -- A top European diplomat said he hopes to reply soon to Iran's letter last week spelling out its reaction to an international proposal for the Shiite Muslim nation's controversial nuclear program.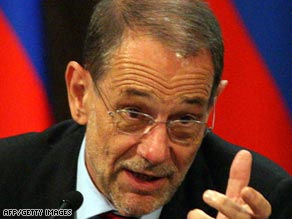 E.U. foreign policy chief Javier Solana hopes to respond to Iran's letter on its nuclear programe soon.
"We have not responded yet. We are still talking among ourselves," said Javier Solana, the EU's foreign policy chief, at an EU-NATO meeting Monday. "But I hope we'll have a response soon."
Last month, world powers proposed economic and other incentives for Iran if it suspended its uranium enrichment program. On Friday, Iran said it had replied to the proposal, but did not release details.
The proposal was from the foreign ministers of the permanent members of the Security Council -- the U.S., Britain, China, Russia, and France; Germany, which has been involved in nuclear talks; and Solana.
These countries are concerned that Iran aspires to develop nuclear weapons. But Iran says it is interested only in developing nuclear power for energy.
Solana was asked if he was going to meet with top Iranian nuclear negotiator Saeed Jalili. The Iranian state-run media has said the two would be meeting later this month.

Watch CNN's Fareed Zakaria talking with Iran's foreign minister, Manouchehr Mottaki »
Such a meeting "is not impossible," Solana said.
French Foreign Minister Bernard Kouchner said he was familiar with the contents of the Iranian letter only "indirectly" but would receive a copy of it Monday. His conclusion is that it gives "a little" but not a lot of "hope," he said.
Jalili, Iran's top nuclear negotiator, told Solana in a phone call on Friday that Iran's response focused on "common ground between the two sides and a constructive and creative view," according to Iranian news reports.
Along with the incentives, the EU, acting on behalf of world powers, is also offering a six-week "pre-negotiations" phase, a gesture of goodwill and an effort to jump-start talks that have been at an impasse over Iran's nuclear aspirations.
It is calling for the suspension of new sanctions if Iran takes a six-week break from installing or manufacturing any more centrifuges that enrich uranium.
That would mean Iran would be allowed to continue to use the more than 3,000 centrifuges it already has but could not manufacture more in that period.
The EU recently placed sanctions including an asset freeze on Iran's Bank Melli and visa bans on some senior officials.
The world powers said in their letter to Iran last month that "formal negotiations can start as soon as Iran's enrichment-related and reprocessing activities are suspended."
Iranian officials have continued to slough off demands to suspend uranium enrichment.
E-mail to a friend