(CNN) -- Iran's top nuclear negotiator will meet with EU foreign policy chief Javier Solana soon to discuss a package of incentives aimed at persuading Iran to stop nuclear enrichment, Solana's office says.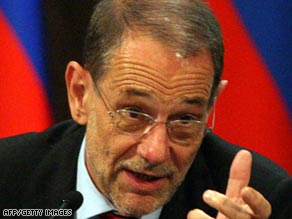 EU foreign policy chief Javier Solana is to discuss a package of incentives with Iran.
Iran's state-run news agency, IRNA, reported the meeting with negotiator Saeed Jalili will be held in Geneva, Switzerland on Saturday, July 19, but Solana's office said Friday the date and place were not confirmed.
IRNA said the talks would focus on proposals put forward by the group that has been leading the United Nations' dealings with Iran: Germany and the permanent members of the Security Council -- China, France, Russia, Britain, and the United States.
Iranian President Mahmoud Ahmadinejad said this week his country was mulling the package of proposals, which it received in June. The proposals included incentives for Iran if it stopped uranium enrichment and penalties if it refused.
Word of the talks follows a series of Iranian missile tests this week which prompted condemnation from the United States and

Israel ».
Don't Miss
Iranian media reported Tehran fired a series of missiles Wednesday and Thursday -- including one long-range Shahab-3 missile, capable of reaching Israel.
A senior U.S. military source disputed that, however. The source said American radar and satellite data show Iran fired seven missiles Wednesday, as Iran claimed, but one of those missiles failed to launch and Iran fired it the following day.
Iran's maneuvers this week come amid international tensions over Iran's nuclear aspirations, and follow an Israeli military exercise last month that was thought to be a message to Iran.
World powers, which have long suspected that Iran is intent on building nuclear weapons, have offered economic and other incentives to the Iranian government in exchange for the suspension of its enrichment program.
Iran says its nuclear program is strictly to produce energy and it defends its right to proceed with enrichment.
E-mail to a friend

All About Iran • Nuclear Proliferation • Israel • Iraq • Iranian Revolutionary Guard Corps • Syria