PARIS, France (CNN) -- A Mideast peace deal has never been closer to fruition, Israel's prime minister said Sunday, ahead of a summit to launch the French-brokered Union for the Mediterranean.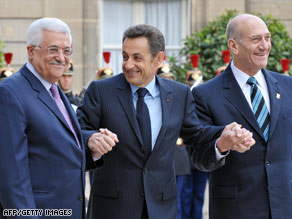 Nicolas Sarkozy, center, welcomes Mahmoud Abbas, left, and Ehud Olmert to Paris, France, on Sunday.
Israeli and Palestinian sources also said another prisoner release was in the works with Lebanon's Hezbollah, in addition to the hostage swap that Israel recently approved with the militant group.
"I think we have never been as close to the possibility of reaching an agreement as we are today," Olmert said in a joint news conference with Palestinian President Mahmoud Abbas and French President Nicolas Sarkozy.
Israel and the Palestinian Authority have begun to negotiate issues "that will take us finally to a point at which we have never been before," Olmert added.
Palestinians, too, are serious about reaching peace, Abbas said.
"We know that Mideast peace is the base of peace in the world," Abbas said. "If peace doesn't come soon, the world will not be stable."

Watch Olmert, Abbas talk of possibilities for peace »
Later Sunday, Olmert told leaders at the Union for the Mediterranean summit that Israel is committed to negotiating a "solution to the historic conflict with the Palestinian people ... and with the Arab countries who have yet to sign peace accords with us."
Olmert said he and other leaders were striving for "peace for us and the Palestinians founded on the vision of two states for two people: the state of Israel ... and a Palestinian state for the Palestinian people," according to the Israeli government press office.
During a meeting with Abbas, Olmert agreed to another prisoner release, Israeli government spokesman Mark Regev said.
There is no talk yet about how many prisoners would be involved, Regev said. Palestinian negotiator Saeb Erekat could not provide a timeframe or a number of prisoners, either.
However, a spokesman for the Israel Prison Service said it could begin Wednesday or any day thereafter.
Last month, Israel OK'd a U.N.-brokered deal with Hezbollah under which Israel will release prisoners in exchange for two captured Israeli soldiers, both presumed dead, Olmert's office has said.
Among the prisoners slated for release in the Hezbollah deal is Sami Kuntar, who was convicted in a 1979 attack in which he shot and killed an Israeli man in front of his 4-year-old daughter, then smashed her head against a rock with his rifle butt.
The United States and Israel consider Hezbollah a terrorist organization.
Olmert on Sunday praised Sarkozy for assembling about 43 heads of state to launch the Union for the Mediterranean. He said he hoped the meetings could bring solutions to other problems threatening the Middle East and the world.
During an April speech in Tunis, Tunisia, Sarkozy explained the union's ambitious goal: "Its purpose is not to bring about political integration in the Mediterranean, but to organize the closest cooperation possible to create the conditions for reconciliation."
The union, he said, will deal with a host of issues, including energy, the environment, water supply, maritime laws and unemployment. And the creation of a Palestinian state will be high on the agenda, he said.
"To guarantee Israel's security, Israel needs to have a viable, democratic, modern state at its borders, one that includes [Gaza] and the West Bank," Sarkozy said in April. "Hasn't there been enough suffering between Palestinians and Israelis for this to continue? To those who tell me to wait, what are they waiting for? More death, more war, more incomprehension, more underdevelopment? Because this question of Israel and Palestine weighs on the entire Arab world."
Olmert voiced hope that Israel would soon have direct contact with Syria, as opposed to the indirect talks under way now.
Syrian President Bashir al-Assad said Saturday that peace talks between the two countries would progress only when a new U.S. president takes office.
"Since we are talking about the need for the presence of the U.S. administration, to be completely frank, [the Bush] administration is not interested in the peace process," al-Assad said. "We are waiting for the next U.S. administration."
Al-Assad attended Sunday's summit but wasn't present for Olmert's address to the assembled leaders, having left the room about 20 minutes before the speech, the Jerusalem Post reported.
Diplomatic sources said Olmert, through Turkey's prime minister, sent a message to al-Assad that waiting for a new U.S. administration would be a mistake because the administration would take months to develop its Middle East policies, according to the Jerusalem Post.
Last week, Israel and Syria wrapped up a third round of indirect peace talks in Turkey, which is mediating the negotiations.
Syria has long been pushing Israel to return the Golan Heights, which Israel has occupied since the Six Day War in 1967. Israel wants Syria to abandon its support of Palestinian and Lebanese militant groups -- including Hezbollah and Hamas -- as part of any peace agreement.
Olmert said Sunday he is aware of the dangers threatening the Middle East and he promised to work with the union, Europe and the United States "to avoid the worst dangers that threaten us from the leaders of Iran."
World powers, particularly Western nations, are concerned Iran aims to develop a nuclear weapon. Tehran contends its nuclear program is for energy purposes and defends its right to enrich uranium.
E-mail to a friend

All About Israel • Palestinian Politics • Hezbollah • Nicolas Sarkozy