(CNN) -- British Prime Minister Gordon Brown warned that his country would back tougher sanctions against Iran over its nuclear ambitions and denounced Iranian threats against Israel as "abhorrent" in a landmark speech Monday to the Israeli parliament, the Knesset, in Jerusalem.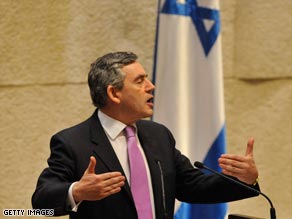 Gordon Brown is the first British Prime Minister to address the Knesset.
Brown, who is the first British premier to address the Knesset, said Tehran faced a clear choice between suspending its nuclear weapons program and international isolation, the UK Press Association reported.
"We say with one voice: It is totally abhorrent for the president of Iran (Mahmoud Ahmadinejad) to call for Israel to be wiped from the map of the world," Brown said.
"Our country will continue to lead, with the United States and our European partners, in our determination to prevent an Iranian nuclear weapons program. We stand ready to lead in taking further sanctions and will ask the whole international community to join us."
Brown, who held talks Sunday with Israeli counterpart Ehud Olmert, said he had been a lifelong friend of Israel and vowed that the UK would continue to stand by Israel's side.

Watch Gordon Brown address the Knesset »
But he urged Israeli settlers to withdraw from Palestinian lands, prompting jeers from a member of the audience, and called for a lasting Middle Eastern peace settlement.
"I believe that an historic, hard won and lasting peace is within your reach. I urge you to take it by the hand," said Brown.
"It is vital also that both sides now create the conditions for a final agreement. The Palestinians, acting with persistence and perseverance against the terrorists who attack your country. Israel, freezing and withdrawing from settlements -- and like many of your friends, I urge you to make these decisions."
Brown's comments followed similar remarks Sunday at a press conference with Palestinian President Mahmoud Abbas in Bethlehem.
"Settlement expansion has made peace harder to achieve. It erodes trust, it heightens Palestinian suffering, it makes the compromises Israel needs to make for peace more difficult," Brown said, according to The Associated Press.
At a press conference with Olmert later on Sunday, the Israeli Prime Minister acknowledged disagreements with the UK and Palestinian leaders over the issue of settlements but said a peace deal was "closer than ever."
Speaking to the Knesset on Monday, Brown praised Palestinian President Mahmoud Abbas and Prime Minister Salam Fayyad for their "courageous leadership."
"I believe that these men share with you a vision of peace and reconciliation -- and that they understand that they can never achieve their goals for the Palestinian people at the expense of Israel's security."
Brown was due to return to the UK Monday afternoon following a three-day trip that also included a visit to Iraq.
E-mail to a friend

Copyright 2008 CNN. All rights reserved.This material may not be published, broadcast, rewritten, or redistributed. Associated Press contributed to this report.
All About Palestinian Politics • Israel • Iran • Gordon Brown