BAGHDAD, Iraq (CNN) -- Iraq's parliament on Tuesday passed a law setting guidelines for provincial elections, despite a boycott by Kurdish lawmakers.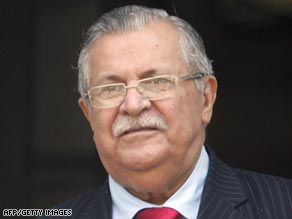 Many observers think President Jalal Talabani, a Kurd, will vote against the measure.
Officials have targeted sometime in autumn for the polls, but the political dispute -- coupled with parliament's one-month break beginning July 31 -- makes it unclear when elections could be held.
The U.S. and Iraq's government regard local elections as essential to developing democracy and promoting national reconciliation, key goals they say would help stabilize the country.
Such elections would give groups such as Sunni Arabs more of a say in the country's politics.
The measure now goes to the country's presidency council -- President Jalal Talabani, a Kurd; Vice President Tariq al-Hashimi, a Sunni Arab; and Vice President Adel Abdul Mahdi, a Shiite.
Many observers believe Talabani would stand with his Kurdish compatriots and vote against the measure, bringing it back to square one.
There have been intense political disputes among the Kurds, Arabs, and Turkmens in the Kirkuk region, which is regarded by the Kurds as a majority Kurdish region.
One lawmaker, Samira al-Mousawi, told CNN that the Kurds weren't the only ones who didn't cast ballots. Others who chose not to vote were Shiites and Sunni Arabs, she said.
A lawmaker told CNN that 141 out of 275 parliamentarians voted for the measure, but the Kurdish bloc boycotted the vote.
The Kurds were protesting a secret ballot setting out a power-sharing arrangement in the Kirkuk region, with Kurds, Turkmens and Arabs getting the same amount of power, she said.
And they are protesting the postponing of a long-delayed referendum over whether residents want to be part of the Kurdish Regional Government, she said.
Iraq's Independent Electoral Commission originally set an October 1 deadline for elections, but it now says that date can no longer be met. Commission members believe that if the presidency council approves the law, they can stage the elections by mid-December.
E-mail to a friend

CNN's Mohammed Tawfeeq and Jomana Karadsheh contributed to this report.
All About Iraq