(CNN) -- The death of an Air Force technical sergeant in Iraq last week quietly brought a somber milestone: One hundred American female service members have died in Iraq, according to a CNN count of Pentagon figures.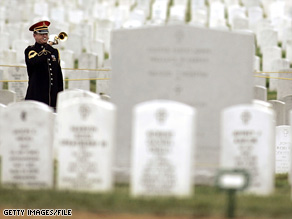 A U.S. Army bugler plays taps during burial services for a female soldier at Arlington National Cemetery in 2005.
The latest death was Tech. Sgt. Jackie L. Larsen, 37, of Tacoma, Washington, who died of natural causes July 17 at Balad Air Base, Iraq. She was assigned to the 9th Reconnaissance Wing, Beale Air Force Base, California, according to the Pentagon.
The death comes during what may be the lowest monthly toll in the war. Pentagon records show that at least nine U.S. troops have died in July. The lowest number in the war was in May, with 19. The total of U.S. service member deaths in the Iraq war now stands at 4,124.
Of the 100 female service members who died:
97 were troops, and three were military civilian employees.
61 of them have been classified as hostile -- occurring during combat or enemy attacks -- and 39 have been non-hostile.
12 died in 2003, 19 in 2004, 20 in 2005, 15 in 2006, 27 in 2007 and seven this year.
80 of those were members of the Army, nine were Navy, seven were Marines, and four were Air Force.
Meanwhile, a female suicide bomber detonated explosives at an Awakening Council checkpoint just outside Baquba, killing eight people and wounding 24 Thursday night, police said.
The checkpoint is two kilometers (1.4 miles) from Baquba, the capital of Diyala province.
Those killed and wounded were mostly members of an anti-al Qaeda group, the police said.
Don't Miss
An Awakening Council leader was among the dead, police said. An Interior Ministry official identified the leader as Naim al-Dulaimi, a high-ranking local leader of the 1920 Revolution Brigades. The brigades are a former nationalist insurgent group turned into an Awakening group, fighting al Qaeda in Iraq.
There have been about two dozen female suicide bombings in Iraq. The bulk of them have been in Diyala. The ethnically mixed province that stretches north and east of Baghdad and borders Iran.
Last month, a female suicide bomber attacked a crowded area in Baquba's center, killing at least 16 people and wounding 40.
Police, women and children were among the casualties, authorities said at the time.
Many Awakening Councils, whose members are predominantly Sunni, have been recruited by the U.S. military to work against al Qaeda in Iraq and other militias.
Elsewhere, attackers in Iraq's capital over the past 24 hours killed three members of an anti-insurgent group and wounded a senior member of the prime minister's political party, officials said.
Three members of an Awakening Council who were manning checkpoints in the Sunni neighborhood of Adhamiya were gunned down by attackers in a car Thursday morning, according to a local leader of the Awakening Council.
Adhamiya, in Baghdad's northeastern area, used to be controlled by al Qaeda in Iraq fighters. The area had once been rife with attacks against U.S. and Iraqi targets. But as the Awakening movement took hold in the neighborhood over the past year, violence declined.
An Interior Ministry official said Abdul Rahman Dawood, a senior member of the Dawa party, was wounded in a bombing at his house in southeastern Baghdad late Wednesday. Dawa, a Shiite movement that is part of the United Iraqi Alliance bloc, is the party of Prime Minister Nuri al-Maliki.
The prime minister is in Europe this week. He traveled to Germany, where he met with Chancellor Angela Merkel, and is to meet with leaders in Italy and the Vatican.
In another development, Turkish warplanes late Wednesday bombed three villages in northern Iraq where Kurdish rebels were thought to be based, a border security officer said Thursday.
The strikes -- the latest by the Turkish military against Kurdistan Workers' Party (PKK) militants -- occurred in the Zab region of Duhuk province in Iraq's Kurdish region.
The officer said the bombing lasted for an hour, and there were no reports of casualties. Duhuk is one of three provinces that make up the Kurdish region in Iraq.
Turkey has been fighting PKK separatists for years in the southeastern part of Turkey.
Turkey has been going after PKK bases just over its border with northern Iraq, where the group has been staging cross-border attacks.
E-mail to a friend

CNN's Joe Sterling, Jennifer Turner, Jomana Karadsheh and Mohammed Tawfeeq contributed to this report.