BAGHDAD, Iraq (CNN) -- Iraqi security forces backed by the U.S. military launched an operation Tuesday targeting al Qaeda in Iraq and Shiite militias in the volatile Diyala province, Iraqi commanders said.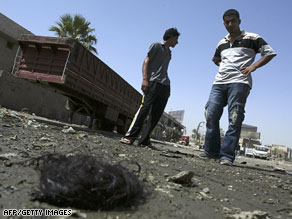 An Iraqi man examines a tuft of human hair at the site of a suicide bombing in northern Baghdad on Monday.
The operation, called Omens of Prosperity, began in the provincial capital, Baquba, where security forces have imposed a curfew and are encircling the city.
Troops are conducting raids against specific targets in Baquba, commanders said.
There have been a number of recent suicide bombings in Diyala, northeast of Baghdad.

Watch violence mar religious pilgrimage »
A female suicide bomber struck an Awakening Council checkpoint last week, killing eight and wounding more than 20. Awakening Councils, whose members are predominantly Sunni, have been recruited by the U.S. military to work against al Qaeda in Iraq and other militias.
In mid-July, a twin suicide attack at an army recruitment center in Diyala killed 28 and wounding 64.
Don't Miss
Additional Iraqi forces near Baghdad and in the northern provinces are securing the province's border areas, they said.
U.S. and Iraqi forces have been conducting raids in Diyala against al Qaeda in Iraq and other Shiite militias, leading U.S. Maj. Gen. Mark Hertling to declare Sunday that the major cities in the province -- Muqdadiya and Baquba -- were "secure."
"But the al Qaeda elements that we've seen have sought refuge in the rural areas all around the major cities," he said.
"Those are the areas that we will be conducting operations, not only with Iraqi security forces, but with coalition forces ... as they have continued to try and find safe havens in the deserts and the hills and the palm groves."
In addition, Hertling's troops in Diyala have launched operations targeting members of families of suspected female bombers -- an effort to break up rings that recruit the women and girls.
E-mail to a friend

All About Al Qaeda in Iraq • Iraq War • Baghdad