From Elise Labott
CNN
WASHINGTON (CNN) -- Iran's response to the international community's offer of incentives in return for cutbacks in its nuclear program is not acceptable, two senior U.S. officials told CNN Tuesday.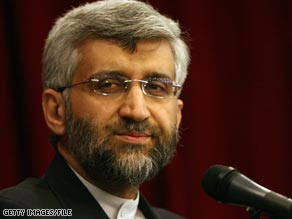 Saeed Jalili, Iran's top nuclear negotiator, sent a resonse to European Union foreign policy chief Javier Solana, on Tuesday.
"It's another non-answer," a senior U.S. official said of a statement issued by Iran Tuesday in response to the offer. "It doesn't say anything. They are still pretending they are responding."
Top Iranian negotiator Saeed Jalili sent the one-page document on Tuesday to European Union foreign policy chief Javier Solana in response to the council's proposed incentives, officials said.
The council had offered to suspend sanctions against Tehran in exchange for a suspension of its uranium enrichment activity, which the international community fears could contribute to the production of a nuclear weapon.
The document says the Iranians are "ready to provide a clear response" to the offer as soon as the world powers that tendered it "provide a clear response" to questions posed by Iran in a paper it submitted last month at talks in Geneva.
"It doesn't seem to be what we are looking for," one senior U.S. official said, who spoke on the condition of anonymity because of the sensitive nature of the diplomacy involved.
The five permanent members of the U.N. Security Council -- China, France, Great Britain, Russia and the United States -- plus Germany dismissed Iran's "non-paper," or off-the-record statement, as unclear.
The Security Council said Iran's statement on Tuesday came in after a weekend deadline that was originally set, but Iranian Foreign Minister Manouchehr Mottaki insisted last week that no such deadline existed.
The political directors of the "P5 plus one countries" will hold a conference call on Wednesday to discuss next steps.
The U.S. State Department said this week more sanctions against Iran would be considered in the absence of a positive response.
Tehran contends it is developing nuclear energy for peaceful domestic purposes.
E-mail to a friend

All About Iran • United Nations Security Council