BAGHDAD, Iraq (CNN) -- Osama bin Laden's top lieutenant has conveyed leaders' dissatisfaction with al Qaeda's operations in Iraq, according to the U.S. military, which says it has uncovered letters authored by the terror outfit's No. 2 man.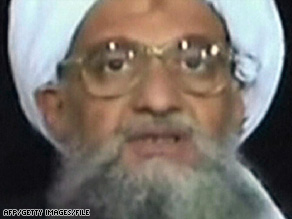 Ayman al-Zawahiri relayed complaints and advice from al Qaeda leaders, U.S. military officials say.
Ayman al-Zawahiri allegedly wrote the March letters -- which the military released Wednesday and which were translated by CNN -- to Iraqi militant groups with ties to al Qaeda.
"It is in their own words. It is reflective of what they are saying about themselves," said Brig. Gen. David Perkins, a spokesman for the Multi-National Forces in Iraq.
Al-Zawahiri conveys advice from al Qaeda's chief, bin Laden, on how to improve the group's performance and passed along dissatisfaction among al Qaeda members and leaders over a range of issues.
Complaints revolve around the group's recruiting efforts, poor communication between al Qaeda central and al Qaeda in Iraq, ineffective and dishonest propaganda techniques, and the growing difficulty in moving "assets" from other countries into Iraq.

Watch how the letters suggest an internal dispute »
"It has become very evident that it has become extremely difficult for al Qaeda to bring assets in from outside of Iraq," Perkins said. "Therefore, we know more and more they have to generate their own operatives inside Iraq and they have to generate their own financial capabilities."
The first letter is to Abu Ayyub al-Masri, the leader of al Qaeda in Iraq.
Don't Miss
The letter conveys accusations that al-Masri is too isolated to keep tabs on his operatives and questions his ability to lead al Qaeda's branch in Iraq. It also questions the manner in which al Qaeda in Iraq's umbrella group, the Islamic State of Iraq, was established.
Al-Zawahiri asks al-Masri to respond to the allegations from other al Qaeda leaders.
"[Al-Zawahiri] was concerned he wasn't getting any regular updates on Iraq. He wasn't getting any regular communication from al-Masri," Perkins said. "He was very dissatisfied with the quality of recruits they were getting to conduct operations in Iraq."
The letter also criticizes the group's propaganda efforts, saying that the Islamic State of Iraq has distributed videos of past operations and claimed them to be new. The letter also states that the group has taken credit for operations carried out by other terror outfits, such as Islamic Jihad.
"The media policy for the Islamic State is using exaggeration, to the extent of lying," the letter says.
The U.S. military says the propaganda failures are a result of aggressive U.S. operations in Iraq.
The second letter is addressed to Abu Omar al-Baghdadi, leader of the Islamic State of Iraq. It includes suggestions and advice that the letter says come from bin Laden. It also asks al-Baghdadi what his group needs to be victorious.
The U.S. military has said it believes al-Baghdadi is a fictional character, portrayed by an actor in previous video statements and used as a front for al Qaeda leaders outside Iraq.
It is unclear how the U.S. military obtained the letter to al-Baghdadi. The letter to al-Masri, however, was obtained in April during an operation that killed al Qaeda in Iraq Information Minister Abu Nizar.
"On April 24th in Baghdad, Coalition Forces identified Nizar, followed his vehicle and stopped it. As they approached the vehicle, Nizar got out and drew a pistol. Coalition Forces responded to the hostile threat by engaging and killing Nizar. He was positively identified through photo comparison and by one of his close associates," a military statement said.
Nizar headed al Qaeda in Iraq's propaganda network and was a conduit between al-Masri and senior al Qaeda leaders. The letter to al-Masri was found on Nizar after he was killed.
The Bush administration has touted its strides in the battle against al Qaeda in Iraq, the Sunni militant offshoot that emerged after the 2003 U.S.-led invasion of Iraq. The military estimates that al Qaeda is operating with only a third of the fighters it had two years ago.
Al Qaeda in Iraq, officials say, has been battered by military offensives in Baghdad, the largely Sunni Anbar province and other Sunni areas. It also has been weakened by growing support among Sunnis for the U.S. and Iraqi authorities.
The Sunni support is reflected in the Awakening movement -- a collection of predominantly Sunni security councils of former insurgents or sympathizers who have turned against al Qaeda.
Political reconciliation efforts directed toward Sunni Arabs also have helped harness their support.
In contrast, al Qaeda has alienated Sunnis in Iraq with heavy-handed, divisive tactics, according to experts with the International Crisis Group.
However, experts warn that al Qaeda is resilient, and U.S. Defense Secretary Robert Gates says there is always a danger of al Qaeda's re-emergence.
Gates, who testified Wednesday before the U.S. House Armed Services Committee, lauded security achievements in Iraq but noted "the very real threat that al Qaeda continues to pose."
E-mail to a friend

CNN's Arwa Damon, Jomana Karadsheh and Youssif Basil contributed to this report.
All About Ayman al-Zawahiri • Al Qaeda in Iraq • Islamic State of Iraq • Abu Ayyub al-Masri