(CNN) -- In a video marking the seventh anniversary of the September 11 terrorist attacks, al Qaeda's top leader in Afghanistan vows more "large-scale" attacks against the United States and its allies.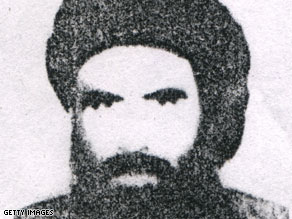 Mullah Omar, chief of the Taliban, is shown in this undated headshot photo.
In another segment, the personal adviser to Taliban leader Mullah Omar says al Qaeda leader Osama bin Laden is alive and well. Al Qaeda leaders featured on the video promise more violence against their enemies.
"We inform the forces of the Cross and their apostate agents that the Mujahedeen's policy in the coming stage, God permitting, is going to be more major, large-scale attacks like the Kandahar prison operation, the Nuristan raid, the Sarobi ambush and Khost airport operation in which approximately 50 Americans and 100 apostates were killed and four helicopters were hit and destroyed," Mustafa Abu al-Yazid says.
CNN could not independently verify the authenticity of the video posted on jihadi Web sites, purportedly by al Qaeda's video production arm, As Sahab.
The well-being of bin Laden, and the possibility of his demise, are frequently in question. But in the video, Mullah Mohammed Hassan Rahmani, adviser to Mullah Omar, says, "Sheikh Osama is healthy and well, and we ask God to protect him, and we pray to God to preserve him and foil the attempts of the enemies of the Nation to reach him."
Mullah Omar has been on the U.S. military's most-wanted list since a U.S.-led coalition ousted the Taliban rulers from Afghanistan in 2001.
Don't Miss
Also on the video is a reading from the will of Saeed al Ghamdi, one of the 19 hijackers involved in the September 11 suicide missions in New York and Washington. He was believed to have been aboard United Airlines Flight 93, which crashed in rural Pennsylvania. Officials said his passport was recovered from the crash site.
The documentary-style video is nearly 1½ hours long. Among the other speakers are Abu Ayyub al-Masri, also known as Hamza al-Muhajjer, the head of al Qaeda in Iraq; and Ayman al-Zawahiri, bin Laden's second-in-command.
Video excerpts were first released by the Arab news network al-Jazeera on September 8. Availability of the entire video was delayed by technical problems, according to terrorism analyst and CNN contributor Laura Mansfield.
E-mail to a friend

All About Al Qaeda • Mullah Mohammed Omar • September 11 Attacks