From Adam Levine
CNN
WASHINGTON (CNN) -- Violence is falling in Iraq's Anbar province, one of the top U.S. commanders in the country said Monday, but that will not mean a significant reduction in U.S. troops any time soon.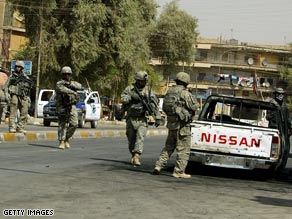 U.S. soldiers secure the site of a car bomb explosion that killed two people Monday in Baghdad.
President Bush announced earlier this month that the overall troop level in Iraq will be reduced by approximately 8,000 by early next year, and it has been announced that a battalion of Marines slated to go to Iraq will no longer be sent there.
But Lt. Gen. Lloyd Austin said Monday that for now, the rest of the troops will remain.
"I'm not forecasting a further drawdown in Anbar," he said at a news briefing.
The situation in Anbar is continuing to improve some three weeks after the United States handed over control of security to Iraqi troops, Austin said. He added that the Iraqi government will begin paying the salaries of 54,000 Sunni fighters, known as the Sons of Iraq, who have been on the U.S. payroll.
Attacks in Iraq overall have waned, Austin said.
There have been fewer than 200 attacks a week over the past four months, which Austin described as "phenomenal," and in the city of Baghdad, there have been fewer than four attacks a day, on average, he said.
Austin said a number that low "would have been unthinkable" several months ago.
A U.S. soldier was killed in Baghdad on Sunday, the U.S. military said.
The Multi-National Division - Baghdad soldier died when his patrol was struck in a "small-arms fire attack."
Eighteen U.S. service members have died in Iraq this month.
Meanwhile, Saudi Arabia plans to return 16 Iraqi detainees to their home country, Iraq's National Security Advisor Moaffaq al-Rubaie said on Monday.
Iraq earlier this month handed back to Saudi Arabia eight Saudi detainees who had been held in Iraq.
The prisoner releases are part of an agreement between Iraq and Saudi Arabia under a security cooperation plan.
The plan and the releases reflect the improved relations between the Sunni Arab countries in the region and Iraq, which has a Shiite-dominated government.
Five children were killed and three others wounded in a bombing in northern Iraq on Monday, Mosul police said. Police said the children, all younger than 10, were playing near their homes in Hammam al-Ali, an area about 9 miles south of Mosul, in the early evening when a roadside bomb detonated.
In central Baghdad, a parked car bomb exploded around midday, killing at least three people and wounding seven others, the Interior Ministry said.
The casualties were civilians, and the blast occurred in the Karrada commercial district, the site of a double-car bombing last week that killed at least a dozen people.
The area is across the Tigris River from the Green Zone, which houses embassies and government headquarters.
In northern Baghdad, at least one civilian was killed and four others wounded on Monday when a mortar slammed into a road, a ministry official said. Civilian vehicles were also damaged in this attack.
In western Baghdad, at least two civilians were wounded in a car bombing.
The U.S. military on Monday corrected information disseminated on Sunday by Iraqi officials that an Iraqi general was killed in an ambush in western Baghdad. Gen. Adel Abbas had been wounded, the military said.
E-mail to a friend