BAGHDAD, Iraq (CNN) -- A parked car bomb detonated Sunday in an outdoor market in Baghdad, killing nine civilians and wounding 13 others, an Interior Ministry official said.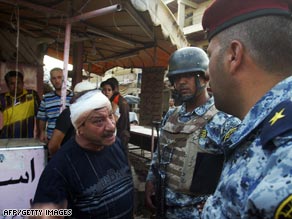 An injured man talks to a policeman Sunday after a car bomb exploded in Baghdad's Bayaa neighborhood.
The attack happened in the Shiite neighborhood of Bayaa, in southwestern Baghdad, around 1:30 p.m., the official said.
It was one of several deadly incidents to strike the Iraqi capital Sunday.
Sniper fire killed two Iraqi soldiers in the Mansour neighborhood, a ministry official said.
In the eastern Baghdad neighborhood of Zaiyouna, a roadside bomb injured seven people, including five police officers, the official said.
And in southern Baghdad's Dora neighborhood, unknown armed men killed two members of the Sons of Iraq -- a group of former Sunni insurgents who have turned against al Qaeda in Iraq.
Sunday's attacks came as top Iraqi officials met to discuss a recent spate of violence against Christians in the northern city of Mosul.
President Jalal Talabani and Prime Minister Nuri al-Maliki discussed security and government efforts to fight terrorism after at least 900 Christian families fled Mosul last week.
The Christians were reportedly frightened by a series of killings and threats by Muslim extremists ordering them to convert to Islam or face death, Iraqi officials said.
In response to the attacks, Iraqi Defense Minister Abdul Qader al-Obaidi ordered more checkpoints in Christian neighborhoods, additional security patrols and more aerial surveillance of Christian areas.
Talabani also met with U.S. Ambassador to Iraq Ryan Crocker on Sunday to discuss security, and Vice President Tariq al-Hashemi held a press conference with a group of local priests and bishops.
"The state, its security services and armed forces must take one stand so they can do their part in these conditions and protect our Christian brothers because they are our partners in rebuilding this nation," al-Hashemi said.
E-mail to a friend

CNN's Saad Abedine, Mohammed Tawfeeq and Yousif Bassil contributed to this report.