BAGHDAD, Iraq (CNN) -- The number of Christian families who have fled the northern Iraqi city of Mosul in the past week has reached 1,350, authorities said Wednesday.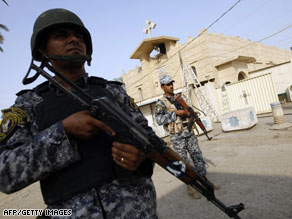 Iraqi policemen patrol Tuesday outside a Christian church in the Baghdad district of Dora.
Nineveh Deputy Governor Khasro Goran said the new numbers were provided by the provincial city's office of immigration and displaced persons.
The families fled, reportedly frightened by a series of killings and threats by Muslim extremists ordering them to convert to Islam or face possible death, Iraqi officials said.
Fourteen Christians have been slain in the past two weeks in the city, which is located about 260 miles (420 kilometers) north of Baghdad.
In response to the attacks, authorities ordered more checkpoints in several of the city's Christian neighborhoods.
The attacks may have been prompted by Christian demonstrations ahead of provincial elections, which are to be held by January 31, 2009, authorities said.
Hundreds of Christians took to the streets in Mosul and surrounding villages and towns, demanding adequate representation on provincial councils, whose members will be chosen in the local elections.
One family -- a husband and wife with four children -- fled the Sukkr neighborhood of Mosul last Thursday to stay with relatives in a town north of the city.
The wife, who refused to give her name out of fear of reprisals, insisted that the family leave the house where they had lived for the past 22 years because they had heard friends had been killed.
She said neighbors encouraged them to stay but they were too frightened.
The family told relatives in Bashiqa, about 12 miles (20 kilometers) north of Mosul, they did not know why the violence against Christians was happening.
The relative said the family was disappointed and frustrated by the government's lack of action.
"We are not sure if we will go back again," said the wife, who worked as a nurse at a hospital . "We are still waiting for the government to provide us safety."
She said her husband is a businessman and their children range in age from 3 to 14.
A curfew was declared Wednesday in several neighborhoods of eastern Mosul as authorities searched for militants behind the attacks.
Iraqi president Jalal Talabani met with U.S. Ambassador to Iraq Ryan Crocker on Sunday to discuss security, and Vice President Tariq al-Hashemi held a news conference with a group of local priests and bishops.
"The state, its security services and armed forces must take one stand so they can do their part in these conditions and protect our Christian brothers because they are our partners in rebuilding this nation," al-Hashemi said.
Meanwhile, the U.S. military announced Wednesday that coalition forces recently killed al Qaeda in Iraq's senior leader in northern Iraq.
Abu Qaswarah, also known as Abu Sara, was killed during an operation in Mosul on October 5, the military said.
The Moroccan native is second in command to al Qaeda in Iraq leader Abu Ayyub al-Masri, according to the military.
E-mail to a friend

CNN's Mohammed Tawfeeq contributed to this report