From Saad Abedine
CNN
BAGHDAD, Iraq (CNN) -- Iraqi security forces Friday arrested four men in Mosul for allegedly committing criminal attacks against civilians in that northern city, particularly against Christians, a defense ministry spokesman said.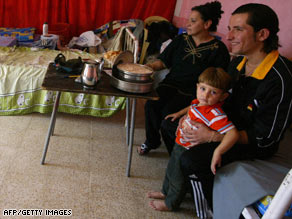 A Christian family that fled Mosul found refuge in the Al-Sayida monastery about 30 miles north of the city.
"We know that they are part of a criminal gang that has been committing criminal acts in Mosul and we will do our best to arrest the rest," Maj. Gen. Mohammed al-Askari told CNN.
Killings and threats against Christians in Mosul have prompted at least 6,000 Christians to flee the city, Iraq's Ministry of Immigration and Displaced Persons announced Thursday. The number represents 1,424 families.
Iraq officials have said the families were frightened by a series of killings and threats by Muslim extremists ordering them to convert to Islam or risk death.
Fourteen Christians have been slain in the past two weeks in the city, which is about 260 miles (420 kilometers) north of Baghdad.
Mosul is one of the last Iraqi cities where al Qaeda in Iraq has a significant presence and routinely carries out attacks. The U.S. military said it killed the Sunni militant group's No. 2 leader Abu Qaswarah in a raid in the northern city earlier this month.
Asked Friday whether the four men arrested Friday were connected to al Qaeda in Iraq or another Islamist radical group, al-Askari said, "The four were known criminals and the Iraqi security forces is investigating the crimes committed by these four outlaws and we will issue a press release about this once the investigation is complete."
No other details were provided.
Al-Askari added authorities have also arrested 10 people in Mosul's Zanjeelee district. A Syrian was among them.
It was not immediately clear if those arrests were connected to the attacks on Christians.
Authorities have ordered more checkpoints in several of the city's Christian neighborhoods in response to the attacks.
Recent Christian demonstrations ahead of provincial elections -- which are to be held the end of January -- may have prompted the attacks, authorities said. Hundreds of Christians took to the streets in Mosul and surrounding villages and towns, demanding adequate representation on provincial councils, whose members will be chosen in the local elections.
E-mail to a friend