(CNN) -- Saudi Arabia has announced that nearly 1,000 suspects accused of having ties to al Qaeda will soon be tried for carrying out dozens of "acts of war" against the Arab kingdom, according to Saudi media reports on Tuesday.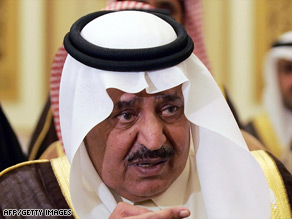 Interior Minister Prince Naif Bin Abdel-Aziz says Al Qaeda has carried out attacks on Saudi soil.
The 991 suspects were rounded up in anti-terror raids across the country in recent years.
Human Rights Watch said it has asked the Saudi government for permission to send observers to the trials of 70 defendants who were in court for the first time on Monday to face charges of carrying out acts of "domestic rebellion."
"For justice to be done, it has to be fair and to be seen as fair," HRW executive director Kenneth Roth said. "Neutral observers should monitor trials of such national and international importance."
The suspects have been linked to al Qaeda, which Saudi Interior Minister Prince Naif Bin Abdel-Aziz said has carried out more than 30 attacks in the kingdom against government buildings, oil refineries, and Saudi citizens.
Al Qaeda remains a real threat in Saudi Arabia, despite the successes that Saudi authorities have had since their campaign against the group began in 2003, said CNN terrorism analyst Peter Bergen.
Since 2004, al Qaeda chief Osama bin Laden -- himself a Saudi -- has made it al Qaeda's policy to attack the oil industry in his native country, which has the largest oil reserves in the world.
In June, Saudi authorities announced a massive anti-terror sweep that netted more than 500 members of a purported al Qaeda-linked terrorist cell allegedly planning attacks on Saudi targets, including major oil installations.
It was the largest number of arrests of terror suspects announced by Saudi authorities.
Don't Miss
In November 2007, Saudi authorities announced they had recently netted more than 200 Saudi and foreign militants involved in six terrorist cells that were plotting to attack an oil support facility, to assassinate clerics and security forces and to smuggle weapons into the country.
The detainees have "direct connections" to the cells and bombings over the past five years -- since the 2003 bombings at a compound where Western contractors lived in Riyadh, said Maj. Gen. Mansour al-Turki, spokesman for the Interior Ministry.
Some of those detained over the years have provided leads to other members of the cells, he said. Many others haven't been cooperative, often refusing to talk to investigators, he added.
"When you arrest someone from one cell, you want to keep them until you have all members of the cell," al-Turki told CNN.
He said the suspects in the 2003 bombings are likely to be the first to face trial. "We believe that we have arrested all living members in that original cell," he said.
According to Human Rights Watch, Saudi Arabia has held about 3,000 suspected militants for years without charge or access to legal counsel.
Christoph Wilcke, a senior researcher on Saudi Arabia for Human Rights Watch, said some of those arrested in past anti-terror sweeps have had little or no ties to terrorist groups.
"I have been in touch with the families of those who have been detained," Wilcke told CNN. "One woman said, 'My husband is a nurse, he brought this wanted terrorist to a hospital and they arrested him, too.' Another said, 'My son went to a neighbor's house to say hello or borrow a knife' and a month later they found out he was on the wanted list.
"I don't know if these are innocent stories, but we should have an open and fair trial to find out," Wilcke said.
Those picked up as terrorist suspects have no legal rights, and are sometimes never heard from again, he said.
"Effectively, Saudi Arabia operates its own Guantanamo," he said. "Saudi security services operate a string of prisons where these kind of people go in, along with your ordinary dissident, and nobody will ever hear from them again."
Saudi Arabia does not have written criminal law to deal with terrorism offenses, and many terror suspects are never tried in court, he said.
"Their best bet of coming out is to go through a religious re-education program," he said. "The Saudis like this (program), but we're more skeptical.
"Telling a detainee that he's all wrong about religion can't take the place of any judicial hearing."
E-mail to a friend

-- CNN's Caroline Faraj contributed to this report.
All About Saudi Arabia • Guantanamo Bay • Al Qaeda