(CNN) -- At least a dozen people have been reported dead and tens of thousands have evacuated an area of Yemen due to flooding, a local official told the Yemen Post on Friday.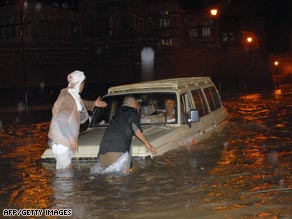 Men try to reach a vehicle carrying tourists stranded in floodwaters in the old district of Sanaa Friday.
Yemen Post Editor Hakim al-Masmari said about 3,500 families -- roughly 22,000 people -- have fled Hadramout, citing Hadramout Gov. Salem Ahmed al-Khanbashi.
Some evacuees are being taken to schools, but the schools can accommodate only 10 percent of the evacuees, al-Khanbashi told al-Masmari, leaving the rest without shelter at the moment.
The government has promised to send tents as emergency shelter, he said.
Saba, the Yemen News Agency, said 48 people had been reported killed or missing.
The flooding comes after more than a full day of rain in the Middle Eastern country, which normally receives only a few inches of rain per year.
About 50 people are missing, an Interior Ministry official told al-Masmari. More than 7,000 houses in two governorates have been affected by the storms, the official said.
The Yemen Post reported there have been hundreds of automobile accidents as a result of the storms.
"As this is a Friday, many Yemenis are attempting to return to the capital, Sanaa for beginning of the work week," al-Masmari said. "Roads are a complete mess due to the storm. It does not help that in Yemen, traffic lights only function in major metropolitan areas. Because of the storm and no lights, there have been many accidents."
The Yemeni government is planning a crisis meeting on Saturday, according to the interior ministry official, whom al-Masmari did not name.
E-mail to a friend