JERUSALEM (CNN) -- Kadima Party leader Tzipi Livni has given up efforts to form a coalition government and will ask President Shimon Peres for early elections in 90 days, Israeli media reported late Saturday.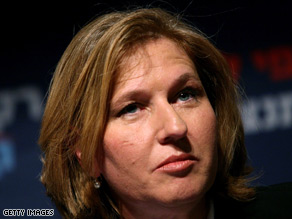 Foreign Minister Tzipi Livni is the chief Israeli negotiator with the Palestinian Authority.
The snap elections for a new Israeli government became a near-certainty Friday when the ultra-Orthodox Shas party refused to join a coalition government headed by Livni, who would have become prime minister.
Other minority parties also rejected overtures from Livni to join her government.
"Enough extortion. We're going to elections," the Jerusalem Post quoted Livni saying to an associate at the end of a meeting with the Kadima negotiating team.
Livni, 50, is to meet with Peres on Sunday afternoon.
On September 17, Livni narrowly won enough primary votes to become leader of the Kadima Party, beating out her more conservative rival, Shaul Mofaz, current transportation minister and a former defense minister.
To assume power, Livni needed to find enough coalition members to give her government a minimum of 61 seats in the 120-member parliament, the Knesset. Kadima has 29 seats.
The developments further jeopardize President Bush's desire for the Israelis and Palestinians to reach a peace deal by the time he leaves office in January.
Embattled Prime Minister Ehud Olmert, who resigned amid corruption allegations, will continue to lead as interim prime minister until a successor is chosen. But it is unclear whether he will be able to strike a deal with the Palestinians before Israel forms its new government.
Livni had submitted coalition proposals to the Pensioner's Party and the Meretz Party. The Pensioner's Party, with four seats, said the offer was far from acceptable and pulled out of talks.
Don't Miss
Livni also engaged in talks with the United Torah Judaism, which has six seats.
The Shas party, known for its hardball negotiating demands, said it could not reach agreement with Livni on two major points: increasing welfare payments to the poor and the final status of Jerusalem.
Shas spokesman Roy Lahmanovich said the Council of Sages of Shas had decided in a phone referendum not to have its 12 parliament members join a coalition led by Livni.
Shas negotiators offered a number of alternatives to Livni's proposal that she did not accept, according to Lahmanovich.
Livni's 1 percent victory over Mofaz led her political rivals, chief among them Likud opposition leader Benjamin Netanyahu, to declare that Livni did not have a real mandate to govern Israel.
In the intervening weeks, Livni persuaded the Labor Party, with its 19 seats, to remain in a coalition government with her by agreeing to make Labor chief Ehud Barak second-in-command as the senior deputy prime minister and giving him a major role in the peace negotiations with Syria.
One option was for Livni to put together a narrow coalition with Labor, the Pensioners Party, Meretz and United Torah Judaism with 63 seats. However, Labor Party officials said they would be reluctant to be in a coalition with such a thin mandate.
If Livni replaces Olmert, she will be the second female prime minister in Israel's history. Golda Meir served from 1969 to 1974.
Livni, who entered the Knesset fewer than 10 years ago, owes her Kadima Party victory to her reputation for clean hands in a party that lost Olmert to allegations of graft.
She is also the chief Israeli negotiator with the Palestinian Authority as the two sides work toward a peace deal. She also refuses to be tied to the Bush administration's vision of a peace deal by the end of this year.
E-mail to a friend

All About Israel • Tzipi Livni • Israeli Kadima Party • The Knesset • Ehud Olmert