(CNN) -- Thousands of people demonstrated Thursday in the Syrian capital to protest a U.S. airstrike last weekend that Damascus says killed eight civilians, according to reports from Syria.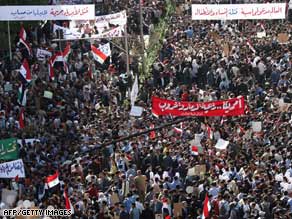 Thousands of Syrians march Thursday in Damascus to protest a cross-border U.S. air raid.
The U.S. military has not confirmed the attack, but officials have said U.S. gunships conducted a "successful" strike on Sunday in Syria, killing Abu Ghadiya, the top facilitator of al Qaeda foreign fighters into Iraq, and several members of his network.
The United States, anticipating the government-stoked protests, closed its embassy in Damascus Thursday because of security concerns. Syrian riot police were out in force to control the crowd.
Some of the demonstrators carried signs harshly critical of the United States, with such messages as "America is the sponsor of destruction and wars" and "We will not submit to terrorism," according to scenes shown on Syrian state television.

Watch Syrians protest the U.S. airstrike »
The nearly three-hour protest began about 10 a.m. (3 a.m. ET), according to Syrian state media and reporters on the scene.
On Wednesday, tens of thousands of demonstrators gathered in Abu Kamal, a Syrian city near the Iraqi border near the site of Sunday's attack, to protest the U.S. action, according to Syria's official news agency, SANA.
Abu Kamal, home to a Red Crescent camp for Iraqi refugees, is across the border from the western Iraqi city of Qaim, which has been a major route for Sunni Arab fighters battling U.S. troops in Iraq.
Also Wednesday, the Syrian government ordered that an American cultural center connected to the U.S. Embassy in Damascus be closed immediately and that the American-run Damascus Community School be closed by November 6, according to a State Department spokesman.
Syria's foreign minister has condemned the U.S. attack as an act of "terrorist aggression."
The target of the strike, Abu Ghadiya, was an Iraqi whose family has been active in smuggling foreign fighters -- but also money and weapons -- into Iraq across the Syrian border, according to several U.S. officials who did not want to be named because they were not authorized to speak to the media.
Other members of Abu Ghadiya's network were killed in the raid, and no one was captured alive, one of the officials said.
In an interview with CNN, Syrian Foreign Minister Walid al-Mouallem disputed the assertions as "lies from the United States."
Al-Mouallem said four U.S. helicopters flew from Iraq about five miles into Syrian territory and struck a farm several hours before sunset Sunday. Two helicopters landed near the farm while the other two provided cover from above, the minister said.
The Iraqi government said it is investigating the strike and intends to share the results with Syria. Iraqi spokesman Ali al-Dabbagh condemned the attack and called on U.S. forces "not to repeat such acts."
Syria has said it has made efforts to secure the 600-kilometer desert border, which is marked largely by a sand berm. But Maj. Gen. John Kelly, the U.S. commander in western Iraq's sprawling Anbar province, said last week that much of the border remains "uncontrolled."
E-mail to a friend

CNN's Cal Perry contributed to this report.
All About Syria • Iraq • U.S. Armed Forces Activities • Insurgencies