GAZA CITY (CNN) -- Israel launched an airstrike Tuesday night on southern Gaza after clashing with Hamas militants in central Gaza, Palestinian sources and Israel Defense Forces said.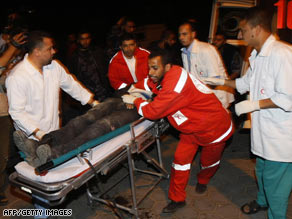 Medical workers wheel a wounded man to hospital in the central Gaza strip on Tuesday after clashes.
Four were killed in the airstrike, which occurred east of Khan Younis, Palestinian sources said. They said a drone and an apache helicopter could be seen.
Earlier fighting between Hamas militants and Israel Defense Forces killed one militant and injured three, bringing the total death toll to 5.
The fighting occurred after dark when Israeli troops entered the eastern part of the Dir Albalah refugee camp in central Gaza, Palestinian sources said.
Don't Miss
IDF said it launched a small operation Tuesday evening after its forces uncovered a "ready-to-be-used tunnel" several meters from a security fence. The IDF said the tunnel -- dug from a civilian home -- was meant for abducting Israeli soldiers.
The IDF said it exchanged fire with militants during the operation, which it said lasted a few hours.
E-mail to a friend