TEHRAN, Iran (CNN) -- Iran's parliament voted Tuesday to impeach Interior Minister Ali Kordan for listing a fake doctorate degree on his resume.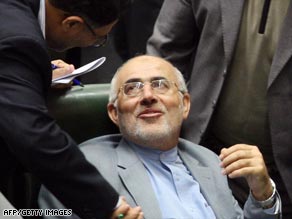 Ali Kordan said someone duped him by saying he could earn the degree by writing an article.
The vote unfolded amid political intrigue, with some analysts suggesting that opponents of Iranian President Mahmoud Ahmadinejad are trying to trigger a vote of confidence in the government by impeaching the interior minister.
In a lengthy speech during the impeachment debate Tuesday morning, Kordan suggested the Israeli news media had organized the campaign to discredit him.
He claimed he did not realize that his purported Ph. D. from England's Oxford University was not real. He also said someone duped him by saying he could earn the degree by writing an article.
There were 188 votes for impeachment, 45 against and 14 abstentions.
Ahmadinejad, who promoted Kordan to be the interior minister in August, has backed him, calling the impeachment illegal. He told Iran's Fars News Agency that his minister's educational credentials should not make a difference.
"I do not care for a torn up piece of paper (degree). What I care about is my ministers' job performance and experience," Ahmadinejad said.
Ahmadinejad's representative was banned from the parliament amid allegations that he tried to bribe some members and forged others' signatures on a petition that said they had withdrawn their support for the impeachment. Ahmadinejad then fired his representative.
Although it is difficult to confirm details of political machinations in Tehran, some have suggested that Ahmadinejad's opponents were using the impeachment in a strategy to destabilize Ahmadinejad's administration ahead of June's presidential election.
If Kordan resigns, he will be the 10th minister in Ahmadinejad's cabinet to leave the government for various reasons.
Kordan is considered a close ally of Iran's parliament speaker, Ali Larijani. He served as his deputy when Larijani was the head of IRIB, Iran's national broadcasting company.
Ahmadinejad's term is up next year, but he is expected to seek another four years in office in the June election.
E-mail to a friend

CNN's Shirzad Bozorgmehr in Tehran contributed to this report.
All About Mahmoud Ahmadinejad • Iran