(CNN) -- For the second time this year, Kuwaiti Cabinet ministers resigned Tuesday after a continuing power struggle with parliament.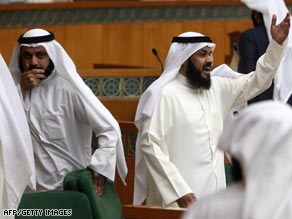 Kuwaiti MPs attend a parliament session at the national assembly in Kuwait City on Tuesday.
If the emir accepts their resignations and dissolves parliament, the move could lead to early elections.
Earlier this year, Sheikh Sabah al-Ahmad al-Sabah dissolved parliament, which is made up mostly of opposition politicians, and new elections were set for May 17.
The parliament has been locked in a feud with the government, which it accuses of corruption and abuse of power.
Tuesday's standoff came after some parliamentarians demanded the opportunity to question the prime minister about why a prominent Iranian cleric had been allowed to enter Kuwait.
A court had banned the cleric's entry and ordered him jailed for defaming the followers of Islam's holiest prophet, Muhammad.
The Cabinet ministers walked out of the session, and later turned in their resignations after an emergency session.
Don't Miss
The emir has several choices. He can choose not to accept the resignations. He can opt to accept them and dissolve parliament. Or he can replace Prime Minister Sheikh Nasser, his nephew.
In March, when the emir formally dissolved parliament, he said he did so to safeguard Kuwait's national unity and out of his primary concern for internal security and stability.
The al-Sabah family has run Kuwait since it came into existence more than two centuries ago. The emir, the prime minister and the crown prince are from the family, as are ministers for defense and foreign affairs, among others.
E-mail to a friend

CNN's Caroline Faraj in Dubai, UAE, contributed to this report.