By Mike Mount
CNN
(CNN) -- Eighteen would-be female suicide bombers turned themselves in to coalition forces in northern Iraq on Wednesday, according to a U.S. military statement.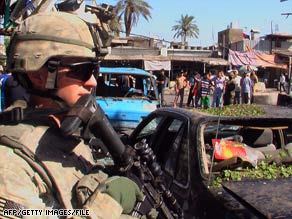 A U.S. soldier keeps watch at the scene of a suicide bombing in Baghdad, Iraq, this month.
The women, whose ages and names were not released by the military, gave themselves up after being persuaded by religious leaders and family members to "cease their training in suicide operations and reconcile," the statement said.
The women were connected to al Qaeda in Iraq suicide bombing cells, but it was not clear where they had been training or operating.
The statement also did not say where the women turned themselves in, though the northern city of Mosul and surrounding parts of northern Iraq are still a hotbed for insurgent activity and considered the last stronghold for al Qaeda in Iraq.
Although attacks in northern Iraq have decreased, they continue. Two U.S. troops were killed by gunfire while distributing humanitarian aid Tuesday west of Mosul.
Don't Miss
The U.S. commander in northern Iraq, Maj. Gen. Mark Hertling, said in October at the Pentagon that the insurgency, though fractured, is still alive.
"There is still a desire by al Qaeda and other extremist groups to hold on to key areas. We have seen that most of all in Mosul," Hertling said.
In a statement Wednesday, Hertling said, "Preying on the vulnerabilities of these women is a hallmark [al Qaeda in Iraq] tactic, and today's event should serve as an example for other women who find themselves in similar situations, showing them there is another way."
E-mail to a friend

All About Iraq War • Mosul • Al Qaeda in Iraq