From Jomana Karadsheh
CNN
BAGHDAD, Iraq (CNN) -- Suicide bombers on Friday launched two attacks in Iraq, killing nine people near Baghdad and two others in the capital.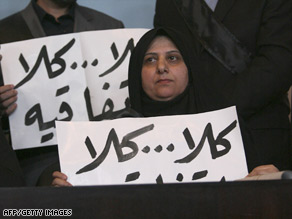 Lawmakers loyal to Muqtada al-Sadr hold signs that protest the U.S.-Iraq security pact after parliament OKd it.
At least nine people were killed and 15 were wounded Friday when a suicide bomber detonated explosives in a Shiite mosque south of Baghdad, an Interior Ministry official said.
The bomber detonated a suicide vest around noon (4 a.m. ET), during Friday prayers in the town of Musayyib, about 60 kilometers (37 miles) south of Baghdad in Babil province, the official said.
Most of the casualties were worshippers, the official said. One of the dead was a woman beggar.
The mosque is affiliated with followers of radical Shiite cleric Muqtada al-Sadr, the official said.
The U.S. military said it heard reports that eight locals died and 15 were injured in the incident. It said the blast went off outside the mosque where worshippers were lining up to enter.
On Friday night in central Baghdad, a suicide car bomber detonated his explosives in Tayaran Square, killing at least two people and wounding 14 others, the official said.
The day before, Iraq's Parliament approved a security agreement with the United States that allows American troops to remain in the country for three more years.
On Friday, followers of al-Sadr took to the streets of his stronghold in Baghdad's Sadr City to protest the agreement.
The Sadrists vehemently oppose the deal because they want U.S. troops out of Iraq now. The 30 Sadrist lawmakers in Parliament staged loud protests against the measure during debates.
Sheikh Hussein al-Husseini, during Friday prayers in Sadr City, condemned the parliamentary vote ratifying the "cursed agreement." He read a message from al-Sadr announcing three days of mourning because the legislation was passed.
Some worshippers and clerics flagellated themselves to the sounds of mourning invocations. Others torched U.S. flags and peaceful protesters chanted against the government.
The U.S.-Iraqi proposal still needs to be OKd by the three-person presidency council, made up of the Kurdish president and the Sunni and Shiite vice presidents.
Also on Friday, Japan's Prime Minister Taro Aso announced that the country will pull its Air Self-Defense Force out of Iraq, part of an effort to pull all 210 military personnel out of the country by the end of the year.
The prime minister's statement says progress in development of democracy, improved security and the wishes of the Iraqi people were considered in making the move.The Bosnian-Herzegovinian and South Korean armies are also planning to pull out.
E-mail to a friend

All About Muqtada al-Sadr • Iraq • Taro Aso