JERUSALEM (CNN) -- A tense calm gripped the West Bank city of Hebron on Wednesday after rioting and serious clashes between Jewish settlers and Palestinians that saw at least 11 people wounded.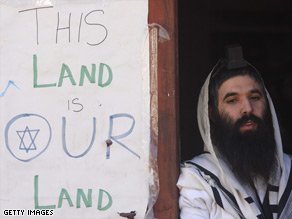 A Jewish settler prays at the entrance to a disputed house in Hebron on Tuesday.
On Tuesday, a teenage settler was seriously wounded by a rock that hit him in the head, and 10 Palestinians were wounded, according to sources on both sides.
The Israeli army declared a closed military zone Tuesday evening around a disputed Hebron house that has been at the center of the clashes, as well as surrounding areas, in an attempt to prevent the Jewish settlers from entering Palestinian neighborhoods, an Israeli army spokesman said.
Israeli settlers moved into the so-called "house of contention" last year, claiming they bought it from a Palestinian man. That man, however, said no deal was ever made.
A court ruled two weeks ago that the settlers living in the house must evacuate. The court said the settlers would be evicted within 30 days if they did not leave voluntarily, but they have so far ignored the court's orders.
Violence flared Monday after rumors that the contested house would be evacuated. Settlers and Palestinians threw stones at each other and settlers rioted elsewhere in the West Bank.
Hebron is one of the most contested cities in the West Bank, with a Palestinian section and a Jewish settler enclave. It is home to about 160,000 Palestinians and 500 Israelis.
It is also the location of the Cave of the Patriarch, a religious site holy to Jews, Christians and Muslims, and has been the site of violence between Palestinians and Israelis.
E-mail to a friend