(CNN) -- Iraq's presidency council Thursday approved the U.S.-Iraq security agreement -- the final step for the agreement to be ratified by the Iraqi government, a council spokesman said. The pact allows the presence of American troops in Iraq for three more years.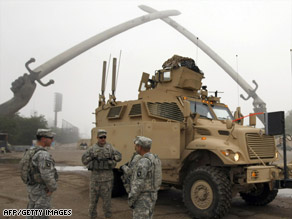 U.S. soldiers gather at the "Crossed Swords" in Baghdad's secure Green Zone on Tuesday.
The three-member presidency council -- Kurdish President Jalal Talabani, Shiite Vice President Adel Abdul Mehdi and Sunni Vice President Tariq al-Hashimi -- approved the agreement unanimously a week after the Iraqi parliament passed the measure.
Under the Iraqi constitution, unanimous approval by the presidency council is required for ratification of a law or agreement.
The security pact will replace a U.N. mandate for the U.S. presence in Iraq that expires at the end of this year.
The agreement, reached after months of negotiations, sets June 30, 2009, as the deadline for U.S. combat troops to withdraw from all Iraqi cities and towns. The date for all U.S. troops to leave Iraq is December 31, 2011.
The agreement -- which stresses respect for Iraqi sovereignty -- "requests the temporary assistance" of U.S. forces, but severely restricts their role.
The pact says that all military operations are to be carried out with the agreement of Iraq and must be "fully coordinated" with Iraqis.
A Joint Military Operations Coordination Committee will oversee military operations.
Iraq has the "primary right to exercise jurisdiction" over U.S. forces "for grave premeditated felonies," the agreement says. Suspects can be held by U.S. forces but must be available to Iraqi authorities for investigation or trial.
Iraq also will have the "primary right to exercise jurisdiction" over U.S. contractors and their employees under the agreement.
Also, the pact says that "Iraqi land, sea and air shouldn't be used as a launching or transit point for attacks against other countries."
The presidency council also approved a U.S.-Iraqi bilateral pact called the strategic framework agreement, which covers a wide range of bilateral cooperation efforts and which was approved by the Iraqi parliament last week.
U.S. Ambassador to Iraq Ryan C. Crocker and Gen. Ray Odierno, the top U.S. military official in Iraq, issued a statement welcoming the council's ratification of the measures.
"We look forward, under these agreements, to the continued reduction in U.S. forces and the normalization of bilateral relations as two sovereign and co-equal nations," the two said in their statement.
"We will undertake initiatives to strengthen our cooperation in the fields of economics, energy, health, the environment, education, culture, and law enforcement. The United States will support Iraq's request to the U.N. Security Council to continue protection of Iraqi assets," the statement said.
E-mail to a friend

All About Iraq • Iraqi Politics • Armed Forces