BAGHDAD, Iraq (CNN) -- A suicide bomber killed at least 55 people Thursday at a restaurant in northern Iraq where Arab and Kurdish politicians were working on ways to ease tensions.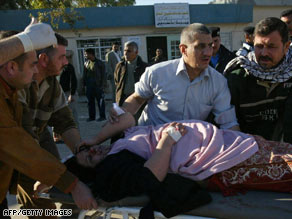 A wounded woman receives care after a suicide bombing Thursday outside Kirkuk, Iraq.
The attack on the eatery outside Kirkuk wounded 109 others, but none of the politicians was seriously hurt.
Police haven't determined a motive for the attack, but Sheikh Hassan Abd al-Jaburi, an Arab official who works for the Kirkuk City Council, said he believes the attackers targeted the meeting "because it was an attempt to stabilize the situation in Kirkuk."
An Iraqi Interior Ministry official provided slightly lower casualty figures than local police -- 47 dead and 102 wounded.
The assault occurred north of Kirkuk during the busy lunch hour at Abdalla Kabab restaurant, where people were celebrating Eid al-Adha, the festive Muslim holiday that comes at the end of the hajj pilgrimage, a Kirkuk police official said.

Watch what was going on at the time of the attack »
Prime Minister Nuri al-Maliki called the strike a "cowardly attack that aimed to kill the happiness of Eid." In a statement, he said security forces were ordered to make arrests "as fast as possible."
Al-Jaburi said Arab politicians and tribal leaders and members of the Patriotic Union of Kurdistan had been having lunch there after meeting at the headquarters of the PUK, the party of Iraqi President Jalal Talabani.
"We were in a meeting to discuss the viewpoints of both sides and try to have accordance about the issues that were disputed about," al-Jaburi said.
Initial reports indicated a suicide bomber got out of a car and strode into the restaurant, where he detonated his explosives vest.
Many Iraqis go to parks, markets and restaurants during Eid al-Adha, and the restaurant -- which has a play area for children -- was busy during the holiday period. It's on the main road between Kirkuk and Irbil, the capital of Iraq's three-province Kurdish region.
Staffan de Mistura, special representative of the U.N. secretary-general for Iraq, called the attack "appalling" and asked all Kirkuk leaders to urge restraint and show leadership.
"At moments such as these, peace-loving people from all groups in Kirkuk should unite against the forces of coldblooded mass murder."
Tension has rippled for years through Kirkuk, a restive city where Kurds, Arabs and Turkmens have been jockeying for political power.
Kurds believe the city, in Tameem province, is historically Kurdish and should be incorporated into the Kurdish region. Turkmens and Arabs have opposed that move.
The Iraqi Constitution has called for a referendum on whether Kirkuk and environs should be incorporated into the Kurdish region -- which comprises Duhuk, Irbil and Sulaimaniya provinces. But that vote has been delayed.
Iraqis fear tensions could deteriorate into violence if a compromise over the city's power structure isn't worked out among all of Kirkuk's groups.
E-mail to a friend

CNN's Jomana Karadsheh contributed to this report.
All About Kirkuk • Iraq • Suicide Attacks