From Yousif Bassil and Jomana Karadsheh
CNN

BAGHDAD, Iraq (CNN) -- The Kirkuk region -- where police say a suicide bomber killed 55 at a restaurant on Thursday -- is a key battleground in a power struggle among Kurds and other elements in Arab-dominated Iraq.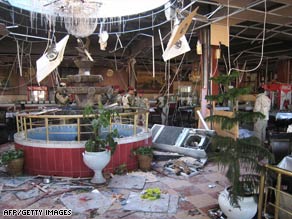 Kirkuk's Abdullah restaurant lies in ruin after a suicide attack killed 55 as people ate a holiday meal.
Shiite Arab and Kurdish lawmakers vote together in parliament. But tensions between Kurds and other ethnic groups are long-standing, and are also developing between the Shiite-dominated central government and the autonomous Kurdistan Regional Government.
The Kurds have been flexing their muscles lately by building up their substantial oil industry without conferring with the central government. They also want to incorporate towns with significant Kurdish populations outside the region into their sphere -- particularly the city of Kirkuk.
But Iraqi Prime Minister Nuri al-Maliki's government has pushed back, criticizing some of the Kurdistan go-it-alone business efforts and criticizing the deployment of the Kurdish peshmerga security forces in towns under the control of the federal government.
The central government and the Kurdish region have been unable to reach a compromise on Kirkuk, a multi-ethnic city that the three-province Kurdish region sees as part of its historic homeland.
That's not a position shared by its many resident Arabs, Turkmens, and Christians.
"A long-festering conflict over Kirkuk and other disputed territories is threatening to disrupt the current fragile relative peace in Iraq by blocking legislative progress and political accommodation," said an International Crisis Group report published in October.
Don't Miss
The restaurant bombed on Thursday near Kirkuk was packed with families celebrating a Muslim holiday and included Kurdish and Arab politicians who went there after a political meeting. More than 100 people were injured; one of the Arab officials believes they were targeted.
Thousands of Kurds were ousted from Kirkuk by former President Saddam Hussein, who regarded Kurds as pro-Iran during the Iraq-Iran war in the 1980s.
Arabs moved in under Hussein's government, a policy called Arabization. But after Hussein was overthrown, Kurds returned to the region.
Kurds, Arabs,Turkmens and others have been jockeying for power and over the city's fate for years.
Iraq's Constitution called for a referendum on whether Kirkuk and its environs should be incorporated into the Kurdish region -- which consists of Duhuk, Irbil, and Sulaimaniya provinces.
Over the year, however, Kurdish lawmakers upset with the balance of power in Kirkuk have helped delay the vote to allow provincial elections next month.
Legislation for the January 31 polls eventually passed, but only 14 of Iraq's 18 provinces will vote. The vote was delayed in Kirkuk's Tameem province and in the three Kurdish region provinces because of the power-sharing disputes.
Other tensions reverberated this year.
In August, al-Maliki sent troops to Khanaqin, a largely Kurdish town in Diyala province, under the guise of a security operation that turned out to be a move to oust peshmerga troops.
There was a standoff between Iraqi soldiers and the peshmerga. Eventually, both sides compromised and decided that Iraqi police should have jurisdiction in the region.
The Kurds lately also are incensed about al-Maliki's decision to start tribal support councils in the Kurdish region and disputed territories. Those councils are pro-government groups similar to the predominately Sunni Arab Anbar awakening, or Sons of Iraq. The Kurds say they will be made up of Arabs who will compromise Kurdish power.
Iraqi President Jalal Talalbani said "the short experience" Kurds have had with such councils is that they will "create enmity," and he said he wants to challenge forming these groups in court.
One Kurdish politician, Aref Tayfur, said last month he fears the support councils "will spark sectarian and ethnic strife, and will lead to instability and a lack of security."
But al-Maliki has disputed this, saying the councils aren't made up of militias and partisan groups. But he has criticized peshmerga activities in Khanaqin, saying the forces have mistreated civilians and have confronted troops in government-controlled areas.
He said last month the support councils are necessary "to maintain security and order in the provinces where we witnessed security chaos before the success of our armed forces to install security and stability."
Differences between the Iraqi central government and the Kurds over oil has delayed national legislation on hydrocarbons and revenue sharing, and the International Crisis Group report says such legislation won't fly "without agreement on the disposition of disputed territories that boast major oil fields, such as Kirkuk."
The report, titled "Oil for Soil: Toward a Grand Bargain on Iraq and the Kurds," calls for a compromise.
"In exchange for at least deferring their exclusive claim on Kirkuk for 10 years, the Kurds would obtain demarcation and security guarantees for their internal boundary with the rest of Iraq, as well as the right to manage and profit from their own mineral wealth.
"Such a deal would codify the significant gains the Kurds have made since they achieved limited autonomy in the wake of the 1991 Gulf War and especially after April 2003, while simultaneously respecting an Arab-Iraqi -- as well as neighboring states' -- red line regarding Kirkuk."
E-mail to a friend

All About Kurdistan • Saddam Hussein • Nuri al-Malaki • Kirkuk • International Crisis Group