JERUSALEM (CNN) -- Israel released 227 Palestinian prisoners Monday in a long-debated good-will gesture to the Palestinian Authority, the Israeli Foreign Ministry said.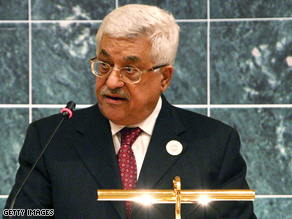 Palestinian Authority President Mahmoud Abbas is locked in a power struggle with the Hamas movement.
The move, officially in honor of the Muslim holiday of Eid al-Adha, was also meant to bolster the reputation of Palestinian Authority President Mahmoud Abbas, whose government is locked in a power struggle with the Hamas movement, which controls the Gaza Strip.
The Israeli government said none of the freed prisoners had "blood on their hands," an expression used to describe Palestinians Israel has charged with harming Israeli citizens.
Israel currently imprisons more than 10,000 Palestinians for security reasons.
Most of the prisoners -- 209 in all -- were taken from Ofer Prison and released at the West Point checkpoint of Beituniya into territory controlled by Abbas's secular nationalist Fatah movement.
The remaining 18 were taken from another prison and sent to cross into Gaza via the Erez crossing.
Israel's Cabinet had originally proposed releasing 250 prisoners, a number whittled down by the Ministerial Prisoner Release Committee.
Supreme Court Justice Elyakim Rubenstein issued an order Sunday to halt the prisoner release, but later reversed his decision.
E-mail to a friend

-- CNN Jerusalem Bureau Chief Kevin Flower contributed to this report.
All About Israel • Mahmoud Abbas