From CNN's Jomana Karadsheh
BAGHDAD, Iraq (CNN) -- The journalist who hurled his shoes at U.S. President George W. Bush has described his attack as "ugly" and asked the Iraqi government for leniency.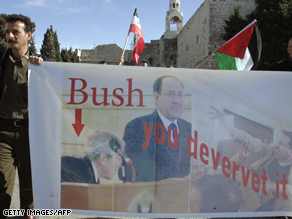 Palestinian journalists protest Thursday in support of shoe-throwing Muntadhar al-Zaidi.
A government spokesman confirmed Thursday that Muntadhar al-Zaidi penned a contrite handwritten letter to Prime Minister Nuri al-Maliki requesting compassionate treatment.
Yaseen al-Majeed, the prime minister's media adviser and spokesman, read CNN part of the letter, saying al-Zaidi describes what he did as "the great ugly act I perpetrated" and says an excuse would not be enough for that.
Al-Zaidi said he recalled interviewing al-Maliki in 2005, and al-Maliki had said to him "come in, this is your home, too."
Al-Majeed told CNN al-Zaidi asked al-Maliki for that same "fatherly compassion." The letter was received on Thursday but it was written at another time, al-Majeed said.
Asked if al-Maliki would consider exonerating him, al-Majeed said it is too early to talk about that because the case remains with the judicial authorities.
Al-Zaidi is hailed as a hero by many Iraqis protesting his detention after he threw both of his shoes at Bush while the U.S. president and al-Maliki were holding a news conference Sunday during Bush's unannounced visit to Baghdad.

Watch Muntadhar al-Zaidi throw his shoes at Bush »
Neither shoe hit Bush, and the journalist was knocked to the ground, hustled out of the room and arrested by security officials.
Don't Miss
As he was pushed to the floor, the reporter shouted out that his shoe-throwing -- a traditional insult in Arab culture -- was a "farewell kiss" to a "dog" who launched the 2003 invasion of Iraq.
His actions drew attention from around the globe and adulation in the Arab world.
Al-Zaidi's brother told CNN on Wednesday that the case against his brother will be tried next week, and an Iraqi Central Criminal Court source said the correspondent most likely will be charged with assaulting a foreign head of state.
A spokesman for the Higher Judicial Council, Judge Abdul Sattar al-Beeraqdar, did not give a date for the trial but said it would not be long after procedures are completed.
Al-Zaidi met Tuesday evening with an investigative judge who referred the case to trial, the criminal court source said.
Al-Zaidi's employer, Egypt-based Al-Baghdadia TV, confirmed the meeting took place at the reporter's holding cell in Baghdad's International Zone, according to network spokesman Abdul Hamid al-Saeh.
E-mail to a friend

All About Iraq • George W. Bush