From Paula Hancocks
CNN
JERUSALEM (CNN) -- Israeli film director Yehezkel Laing says it's a hill worth fighting for.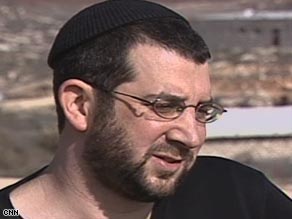 Director Yehezkel Laing says Israeli media doesn't give Jewish settlers in the West Bank a fair shake.
Laing is using his skills to fix what he says is a profound image problem for Jewish West Bank settlers.
He's started an Internet TV series called "Hill 769" to counter what he believes is a media bias in Israel proper against the illegal Jewish settlements in the Palestinian territory labeled outposts.
Noting what he believes is the penchant of Israeli TV for broadcasting negative footage of settlers, such as images of those resorting to violence, Laing has produced three 10-minute episodes, all with shoestring financing and resources.
"I think the media is very hostile to the Jews living here, and they depict them very negatively," Laing said, referring to the West Bank.
In one episode, a religious Jewish settler at an illegal outpost is the strong and humane hero. A Palestinian militant is a violent villain, and a secular Israeli journalist is portrayed as weak and selfish.

Watch clips from the episode »
The Palestinian fires at the journalist, who calls the settler to ask for help.
Don't Miss
The journalist says, "Shoot the dog, kill him." The settler replies, "What about coexistence and peace?" The journalist says, "What peace? Just kill him."
All West Bank settlements are controversial across the Jewish state, where they are seen as impediments to Israeli-Palestinian peace by some and integral aspects of the Jewish homeland by others.
While many settlements are long-established and legal under Israeli law, the remote outposts in the hilly, scraggy land are illegal. Some have been forcibly dismantled by Israeli soldiers, and others are expected to be taken down as part of a future peace deal with the Palestinians.
Laing rejects the dismantling of the outposts, and says, "I can just imagine the mayor of London saying no Jews are allowed to live in London or no Jews are allowed to live in Paris. That would be considered racist and impossible."
When referring to settler violence against Palestinians or Israeli soldiers, Laing says, "Residents who are expelled from their home who are not given any freedom of speech who are not allowed to express themselves in a legal manner will express themselves in an illegal manner."
Avi Abelow, who helps Laing find sponsors for his show, agreed.
"Unfortunately, there is always going to be a minority that's going to lead to violence, but that's because the system took away all the legal means," Abelow said. "When you take away all the legal means and people feel that they're powerless at the hands of a democratic system, that leads individuals to take -- to do things on their own hands."
At present, the series is only available on Israel's Settler Radio Internet page.
While he is preaching to the converted on a small scale, Laing said he hopes his program can become a weekly TV series.
"I think there's a whole other story here that's not being told," he said.
E-mail to a friend

All About West Bank • Judaism • Middle East Conflict