BAGHDAD, Iraq (CNN) -- Twenty-three Iraqi military and security officers accused of conspiring with former Saddam Hussein supporters to overthrow the government have been released from jail, according to an official with Iraq's Interior Ministry.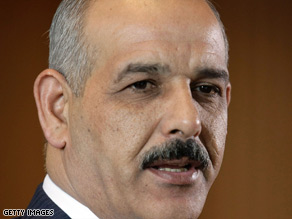 Iraqi Interior Minister Jawad al-Bolani says the recent arrests of 23 officers were politically motivated.
Interior Minister Jawad al-Bolani told CNN on Friday the detentions were politically motivated, sparked by the rough-and-tumble politicking ahead of the January 31 provincial elections and possibly by foreign interests that want to upset Iraq's growing stability.
An Iraqi judge ordered the men -- 16 from the Interior Ministry and seven from the Defense Ministry -- to be freed because of a lack of evidence, according to Interior Ministry spokesman Maj. Gen. Abdul Karee Khalaf.
The Interior Ministry is investigating who originated the charges and ordered the arrests, Khalaf said, promising those responsible will be pursued legally.
Al-Bolani told CNN's Jill Dougherty on Friday that he had received information in recent weeks from Prime Minister Nuri al-Maliki's office about a terror plot within the ministry. This was still under investigation when government officials seized two dozen officers from the Interior and Defense Ministries.
Iraqi security forces this week seized what officials said were suspected members of the al-Awda party, an underground successor to Saddam Hussein's Baath party. The Baathist movement ruled Iraq for 35 years but was banned after Hussein was overthrown in the 2003 U.S.-led invasion of Iraq.
The prime minister's media spokesman said Thursday the officers had been accused of facilitating the activities of former Baathist regime members, outlaws and terrorists.
"I think there is a political attack on a ministry that has made great achievements -- and I believe that whenever elections are approaching and there is a competition over provincial councils, we would witness such things and we expect possibly more of this," said al-Bolani, a secular Shiite who is forming his own secularist political party.
Calling claims of a coup "science fiction," Al-Bolani said most of the Interior officers seized have low ranks, such as traffic police, and noted that they have no influence over security operations. In fact, he said, one of the officers named had been disabled a few months ago by a roadside bombing.
"Most of the information is inaccurate, and unfortunately this kind of information always confuses the decision-makers and this is what disturbs us and we are extremely upset over this issue," he said, referring to the charges.
A senior U.S. military official told CNN al-Maliki was behind the arrests, but al-Bolani stopped short of accusing the prime minister of generating the arrests.
When asked who would want to hurt him and the ministry and whether Iranian influence played a role in the arrests, al-Bolani couldn't pinpoint those who advocated the detentions, even though he believes a government institution or foreign country could have been behind the arrests.
"I think there are certain parties and they will soon be revealed to the public," he said, referring to certain people and not political entities.
Al-Bolani presides over a ministry reputedly dominated by Shiite militias and rife with corruption.
But he said he and his ministry played an important role in stabilizing Iraq since he took over the job in June 2006. He said he helped promote national reconciliation and backed the pro-government "awakening movement" comprised mostly of Sunnis.
"There are parties disturbed by this security stability and security and democratic transformation in the country," he said, challenging those who would have made the arrests a personal vendetta.
"If the attack is on the minister of Interior as a person, then they should face me directly and I am ready to talk," he said. "Whoever wants to harm the government, the state or the ministry let them face me, I am ready for this confrontation."
It is unclear how many Sunnis and Shiites were arrested in the case, but Saddamists tend to be Sunnis. Al-Maliki is a Shiite, and the government is dominated by a Shiite bloc, called the United Iraqi Alliance, and a Kurdish bloc.
Many minority Sunnis, who had more power under Saddam Hussein than they do now, feel they have been marginalized in Iraq's new political system.
E-mail to a friend

CNN's Jomana Karadsheh contributed to this report.
All About Iraq • Saddam Hussein