BAGHDAD, Iraq (CNN) -- After heated arguments, the Iraqi parliament turned down the first draft of a bill Saturday that would have allowed foreign troops, including British forces, to remain in Iraq after the U.N. mandate expires on December 31.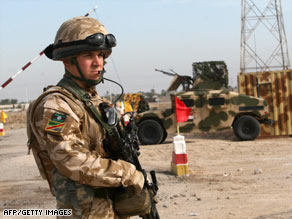 A British soldier attends an Iraqi army training session Thursday in Iraq's Basra province.
Kurdish legislator Mahmoud Othman said the measure was sent back to Iraqi Cabinet members for reworking before resubmitting it to lawmakers. There is no parliamentary deadline for the measure to pass.
The bill does not apply to U.S. troops because the United States last month reached a Status of Forces Agreement with the Iraqi government that calls for American troops to leave Iraqi cities by June 2009, and to be out of Iraq by the end of 2011.
But after December 31 other foreign troops would not be authorized to remain in Iraq. This could cause a problem for Britain, which has the second-largest number of troops in Iraq after the United States.
Britain was the leading U.S. ally during the invasion of Iraq and still has about 4,000 troops based outside the southern city of Basra. Five other nations -- Albania, Australia, El Salvador, Estonia and Romania -- have a total of fewer than 2,000 troops Iraq, according to the Multi-National Force-Iraq Web site.
British troops will begin leaving Iraq in May 2009, Prime Minister Gordon Brown said in a joint statement with Iraqi Prime Minister Nuri al-Maliki during a visit to Iraq on Wednesday.

Watch the planning to withdraw U.S. forces from Iraq »
Othman said some legislators argued that the bill had not been assigned to committees, as is the custom before a measure's first reading. The session became so contentious that the speaker threatened to resign, lawmakers said.
Lawmakers will take a holiday break for Christmas and New Year but could be called back into session by the parliament speaker, Othman said.

Watch Britain's PM talk on withdrawing UK troops »
Wrangling over the bill on non-U.S. troops began Wednesday when the first reading took place.
E-mail to a friend

CNN's Jomana Karadsheh contributed to this report.
All About Mahmoud Othman • United Kingdom • Nuri al-Maliki