JERUSALEM (CNN) -- Israel will respond to ongoing rocket attacks, the country's prime minister said Sunday, hours after 10 rockets and mortars were lobbed into Israel from Gaza.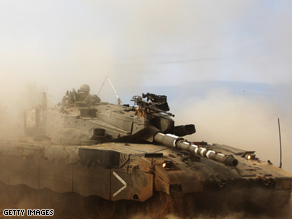 An Israeli tank maneuvers near the Israeli border with Gaza on Sunday near kibbutz Kisufim, Israel.
"Israel will know when to respond correctly and with the necessary responsibility," outgoing Prime Minister Ehud Olmert said at the beginning of his weekly Cabinet meeting.
In the past few weeks, an estimated 200 rockets have fallen inside Israel.
The most recent incident caused some damage and one minor injury, according to Israeli sources. In turn, Israeli aircraft fired missiles at a rocket launch site in Gaza, destroying the launcher. There were no reported injuries from that incident, an Israeli source said.
Olmert said he would "not go into detail" about what actions Israel would take, but insisted the country had formulated various plans to respond to different contingencies.
"A responsible government is neither eager for battle, nor does it shy away from it," he said.
Don't Miss
A tenuous six-month truce between the Hamas government in Gaza and Israel expired Friday. Under the Egyptian-brokered deal, Hamas agreed to end militant attacks on Israel from Gaza, and Israel agreed to halt raids inside the territory and ease its blockade on humanitarian goods.
In reality, the truce started breaking down two months ago. Rocket attacks by militants became more frequent, and Israel resumed airstrikes inside Gaza.
One rocket damaged a house in Sunday's attack, while another slightly wounded a man working in a field, the source said.
Another rocket landed near an Israeli school, but no people were nearby, the source said.
Militants fired 24 Qassam rockets and 11 mortars into Israel from Gaza Saturday, causing some damage but no injuries, the source said.
An Israeli airstrike, targeting Palestinian militants launching rockets, killed one militant and wounded another on Saturday, according to Palestinian sources.
A spokesman for Hamas' military wing vowed Friday to resume the struggle.
"This cease-fire was temporary," said the masked spokesman, who gave his name only as Abu Obaida. "Now that it's over, we will carry on our fight against the occupation."
Israeli officials have said they will respond firmly to any rocket fire.
"We are not afraid of a big operation in Gaza," said Israeli Defense Minister Ehud Barak. "If the situation demands it, we will act."
E-mail to a friend

CNN's Shira Medding contributed to this report.