(CNN) -- A British man convicted of having sex on a Dubai beach was re-arrested as he prepared to board a flight back to the UK, according to media reports.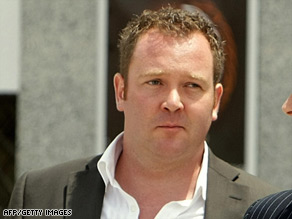 File image of one of the co-accused -- Vince Acors -- arriving at court in Dubai in September.
Vince Acors, 34, from London, was due to fly to Heathrow Monday following his deportation from the Gulf state. But he was detained at Dubai Airport and returned to jail as his flight confirmation was allegedly "not in order," the British Press Association said.
Acors and fellow Briton Michelle Palmer, 36, were initially given three-month jail terms for unmarried sex and public indecency, but these were suspended on appeal.
Acors had been due to return last Friday but a hold-up in the deportation process meant he was unable to board a UK-bound plane and spent the weekend in jail, PA said.
His lawyer Andrew Crossley said: "The return of Vince Acors has been delayed yet again and he will not be returning to the UK. The situation is close to becoming farcical and Vince is severely disappointed.
"After having booked and confirmed his return flight on three separate occasions through the course of the day Vince was re-arrested at Dubai Airport, as his flight confirmation was allegedly not in order. He has been returned to jail, his precise return is now unknown."
Don't Miss
Palmer and Acors were arrested on a public beach shortly after midnight on July 5. Police charged them with illicit relations, public indecency, and public intoxication. A court found them guilty in October and fined them 1,000 dirhams ($367) for the charge of public indecency.
Both denied they had intercourse. And during the trial, Mattar argued that the public prosecutor failed to produce corroborative evidence against his clients on the first two charges, though he said both tested positive for liquor.
The United Arab Emirates, where Dubai is located, is home to thousands of expatriates and is among the most moderate Gulf states. Still, the oil-rich kingdom adheres to certain Islamic rules.
E-mail to a friend