(CNN) -- Israeli airstrikes pounding Gaza are deepening the humanitarian crisis in an area that was already in deep distress, according to a United Nations aid official.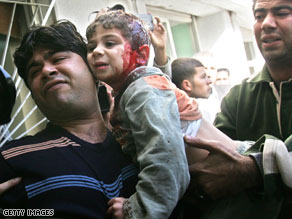 A man carries a wounded Palestinian boy into a hospital in Gaza City on Sunday.
"The situation is absolutely disastrous," U.N. official Christopher Gunness told CNN on Sunday, as a second day of aerial attacks brought the death toll in Gaza close to 300. Hundreds more people have been injured.
Israel has said the airstrikes are a necessary self-defense measure after repeated rocket attacks from Gaza into southern Israel by Hamas militants. Israeli leaders say they are trying to minimize civilian casualties in Gaza.
Gaza is headed for "a major humanitarian disaster" unless the fighting ends soon, said Dr. Eyad El-Sarraj, a psychiatrist who runs Gaza's mental health program.

See photos of Gaza in crisis »
He described people huddling in their basements for safety as bombs fell.
"The children are terrified," he said. "Adults are unable to provide them with security or warmth. Hospitals are stretched out of the limits. We need blood and medicine and surgical equipment."
"People are suffering and dying because of shortages of medical equipment," said Dr. Mahmoud el-Khazndar, who works at Gaza City's Shifa Hospital. "The hospital is not accustomed to accept mass casualties like this."
Gunness, a spokesman for the U.N. Relief and Works Agency for Palestinian Refugees (UNRWA), said the agency has been unable to get needed medical supplies into Gaza for more than a year, because of Israel's blockade of border crossings.
"Long, long lists of drugs and other medical supplies which in the U.S. would be considered standard in any hospital -- they're just not available in Gaza," he said. "When people have been turning up for treatment following this massive attack, they are simply being turned away. If you've got things like shattered limbs, broken arms, broken legs, feet blown off, that kind of thing, you're simply not being seen. If you've got very light injuries and you need bandages or aspirins, you'll get seen."
The United Nations Security Council held a four-hour emergency meeting early Sunday on the situation, ending with a call for an immediate halt to violence. The council also called for a reopening of border crossings to allow humanitarian supplies to reach those in Gaza.

Watch Security Council statement on situation »
Israel did give in to requests from the Red Cross and others to allow 30 trucks loaded with fuel, food and medical supplies to pass into Gaza through the Kerem Shalom crossing Sunday morning, along with five ambulances contributed by Egypt, an Israeli security source said.
However, a senior Israeli military official said that the air raids will continue, and that Israeli ground troops deployed around Gaza will "be activated if needed."
The Red Cross and World Food Program trucks that moved across the border Sunday were the first deliveries allowed by Israel since 80 trucks moved through on Friday.
The Security Council also "called for all parties to address the serious humanitarian and economic needs in Gaza and to take necessary measures including opening all border crossings to ensure the continuous provision of humanitarian supplies, including the supplies of food, fuel and provision of medical treatment."
Gunness said Israel cooperates with his agency's efforts to get humanitarian supplies into Gaza -- but that's not enough.
"We have a good working relationship with Israelis on the ground," he said. "But at the political level, it seems that there is some kind of determination that there should be no development, there should be no prosperity inside Gaza."
Israeli Prime Minister Ehud Olmert told ministers at a weekly Cabinet meeting Sunday that the situation in southern Israel along the Gaza border "is liable to continue for some time, perhaps more than can be foreseen at the present time."
Gunness urged both sides to stop the violence and talk, saying the bombardment of Gaza doesn't serve Israel's strategic interests.
"To have tens of thousands, indeed hundreds of thousands, of angry, hungry, desperate people on the borders of Israel is not in Israel's interest," he said. "It's only the militants, it's only the extremists who benefit from the situation in Gaza."
E-mail to a friend

All About Israel • Gaza • Palestinian Politics • United Nations