GAZA CITY (CNN) -- The death toll from a weekend of Israeli airstrikes on Gaza has topped 300, Palestinian medical sources said Monday as a third day of air raids hit the Hamas-ruled territory.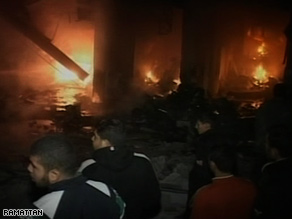 Fires rage overnight in Gaza, where Israel has been bombing what it says are Hamas targets.
Another 650-plus people have been wounded in the strikes, the sources said.
The U.N. Security Council has called for an immediate end to the airstrikes, which began Saturday. But Israel says its objective is to stop an ongoing stream of rockets fired by Hamas militants into southern Israel, and Prime Minister Ehud Olmert told Cabinet ministers Sunday that the situation "is liable to continue for some time."
Hamas, the Islamic militant group that controls Gaza, pledges it will defend its land and people in the face of what it calls continued Israeli aggression. Each side blames the other for violating an Egyptian-brokered cease-fire, which formally expired Friday, December 19, but in reality had been weakening for months.

Watch as Gaza endures third day of attacks »
Israel has struck more than 300 Hamas targets since Saturday, its military said. The Israel Defense Forces said Monday that more than 150 rockets have been launched into Israeli territory from Gaza since the campaign began. One of those hit a home in southern Israel on Saturday, killing one man inside.

Watch parts of Gaza reduced to rubble »
Palestinian security and medical sources said airstrikes hit the Jebaliya refugee camp in Gaza early Monday, and a home near Hamas leader Ismail Haniya's residence was hit overnight. Hamas security sources said that raid targeted the home of a senior leader in the group's military wing.
The Jebaliya raid left five children dead in a home that was damaged when a nearby mosque was targeted, said Dr. Mu'awiya Hassanein. The Israeli military had no immediate comment on that claim.
Don't Miss
And a few minutes after midnight, an Israeli F-16 fired rockets into at least one building at the Islamic University of Gaza, a Gaza-based journalist at the scene -- whose name was withheld for security reasons -- told CNN. There were no immediate reports of casualties from that strike, which the IDF said targeted "a center for weapon research and development."
The Palestinian television station Ramattan showed firefighters trying to put out a fire at a building identified by the Palestinian network as part of the university, while others sifted through large piles of debris and rubble.

Read reactions to Israel's strike on Gaza »
"There was a loud series of explosions ... the entire apartment I'm in was shaking," said Sami Abdel-Shafi, a Palestinian business consultant in Gaza City. "It was scary and a very disappointing position to be in for the 'nth' time."
An Israeli military statement said the targets of the raid were "buildings that were used as meeting places for senior leaders of Hamas."

Watch an ambassador say Israel is only defending itself »
"One of the structures struck housed explosives laboratories that were an inseparable part of Hamas' research and development program, as well as places that served as storage facilities for the organization," the IDF statement said. "The development of these weapons took place under the auspices of senior lecturers who are activists in Hamas. Among the weapons that have been developed and manufactured at this site are Qassam rockets."
There was no immediate response from Hamas to the IDF statement.
E-mail to a friend

CNN's Kevin Flower and Elise Labott contributed to this report.