BAGHDAD, Iraq (CNN) -- Iraq has signed troop withdrawal agreements that will have British and Australian troops out of the country by the end of July, Iraqi Defense Ministry said.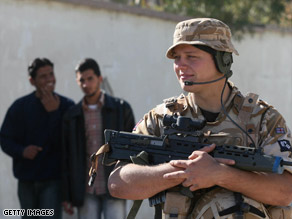 A British soldier stands guard outside as Iraqi teens look on.
Iraqi Defense Minister Abdul Qadir Mohammed Jasim signed the agreements on Tuesday with UK Ambassador Christopher Prentice and Australian ambassador Robert Tyson.
Iraq's Presidency Council approved a resolution Sunday to allow non-U.S. troops to remain in the county after a U.N. mandate expires at the end of the year. It was the last step for final adoption of the resolution, which won parliamentary approval last week.
The resolution was hammered out by Iraq's main political parties earlier in December after an impasse among parliamentary factions that threatened to push it beyond the deadline.
Britain has 4,100 troops in Iraq, the second-largest contingent after the United States with 142,500. Other countries covered under the new resolution -- El Salvador, Australia, Romania and Estonia -- now have just several hundred troops in the country combined.
The resolution authorizes Iraq to negotiate bilateral agreements with the countries, said Kurdish lawmaker Mahmoud Othman. If it had not been approved by the end of the year, those countries would have been in Iraq illegally.
The United States concluded a separate agreement in November with the Iraqi government authorizing the continued presence of its troops. U.S. combat forces plan to pull back from population centers in Iraq by July 2009 and to withdraw from Iraq by the end of 2011.
The British government says its forces will complete their mission of training Iraqi troops by May 31, 2009, and withdraw from the country by July 31, 2009.
The precise timing of the Australian withdrawal was not immediately known.
E-mail to a friend

CNN's Yousif Bassil contributed to this report.
All About Iraq