MIAMI, Florida (CNN) -- Hurricane Norbert has strengthened into a Category 2 hurricane and should continue to grow as it heads toward the Baja Peninsula, the National Hurricane Center in Miami, Florida, said late Tuesday night. Meanwhile, Tropical Storm Marco weakened to a tropical depression Tuesday, hours after making landfall over central Mexico's Gulf Coast,.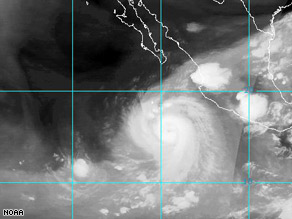 A satellite image shows Hurricane Norbert off the west coast of Mexico on Tuesday.
Forecasters say they expect Norbert to become a major hurricane Wednesday. They expect Norbert to make landfall along the southern Baja Peninsula on Saturday, though hurricane forecasts are unpredictable and can change considerably.
At 11 p.m. ET Tuesday, Hurricane Norbert was about 500 miles (805 km) south of the southern tip of the Baja Peninsula, the hurricane center said. Its maximum sustained wind speeds had increased to 105 miles an hour.
The hurricane formed Monday night.
As for Marco, the Mexican government had discontinued all watches and warnings for Marco by 5 p.m. ET.
The storm made landfall Tuesday morning.
Shortly before 5 p.m. ET, Marco's center was about 80 miles (129 kilometers) south-southeast of Tuxpan, Mexico, and about 75 miles (121 kilometers) northeast of Veracruz, the hurricane center said.
Its maximum sustained winds had decreased to 35 mph, forecasters said. Tropical storms have maximum sustained winds of at least 39 mph.
Marco was moving west at near 5 mph and was forecast to continue pushing west over central Mexico.
The storm is expected to dissipate Wednesday.
Marco or its remnants could dump 5 inches of rain over eastern portions of central Mexico, the hurricane center said.
In anticipation of the storm, Mexico's state-owned oil company, Pemex, evacuated 33 workers from four oil platforms at sea.
It also closed six oil wells and took other steps to guard against damage, the company said.
Marco was a small storm when it made landfall. Tropical storm-force winds at the time extended a mere 15 miles (24 kilometers) from its center.
Marco formed Monday in the Bay of Campeche.
E-mail to a friend

All About Mexico • National Hurricane Center